Time for another Top 5 blog! On my last blog, Top 5 Reasons to Spatially Enable Your CRM, Improved Territory Management was #1. In this blog, I'll layout the Top 5 challenges organizations typically have with territory management.
#5: DEALING WITH ZIP AND POSTAL CODES
For US and Canadian customers, managing sales territories is often done using zip and postal code lists in Excel. This approach is very popular because zips and postal codes are available on the entity record. An organization typically either hires a consulting firm who knows about zip data to group zips into territories or attempts to do it themselves. Once the zips are grouped in Excel, they then do an import/update into CRM to assign the territory to the account, lead, store, etc.
Common problems with this approach include:
It's a hassle to use Excel and export data
It doesn't work well in other parts of the globe that have spotty postal code data
It's virtually impossible to identify contiguous regions without seeing them on a map
It gets expensive to hire the consulting firm again when it's time to realign
The USPS supplies zip code data by street and by branch location. There are no definitive zip code polygons. One must obtain zip code polygons from third parties that infer them from such data. Such polygons often have gaps or inaccuracies.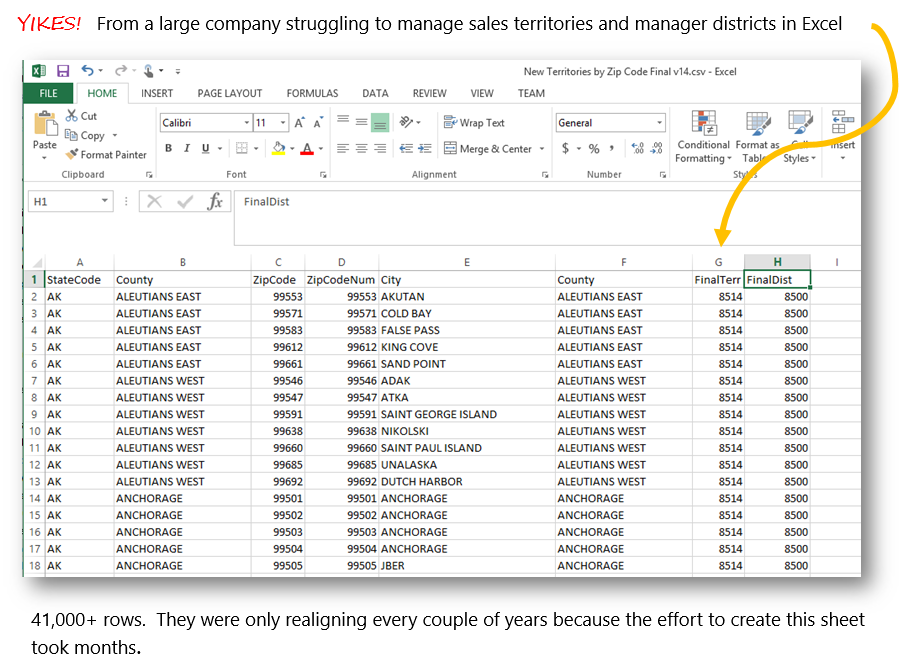 #4: USING MAPPOINT
For starters, it's being discontinued…
One thing I can say with authority; given my background in geospatial, CRM and being a long-time Partner, is that Microsoft's desktop software MapPoint is terrible for managing territories.
With MapPoint, a user has two options for managing territories. The first option is by selecting geometries (e.g. zips or counties) of a single layer to create a list that can then be used in the method I describe in challenge #5 above. Doing this in MapPoint is cumbersome and time consuming plus you still have the other challenges listed in #5 above.
The second option in MapPoint is to manually move geometry vertexes to design territories. Unfortunately, MapPoint's drawing and editing capabilities are difficult to use and often lead to overlapping boundaries or holes. Once territories are drawn in MapPoint, records must be exported from CRM as a .csv, imported to MapPoint to set or adjust territory IDs, exported from MapPoint and reimported into CRM for the record update. What happens if you make a mistake? You get to do the export/import/export/import process all over again!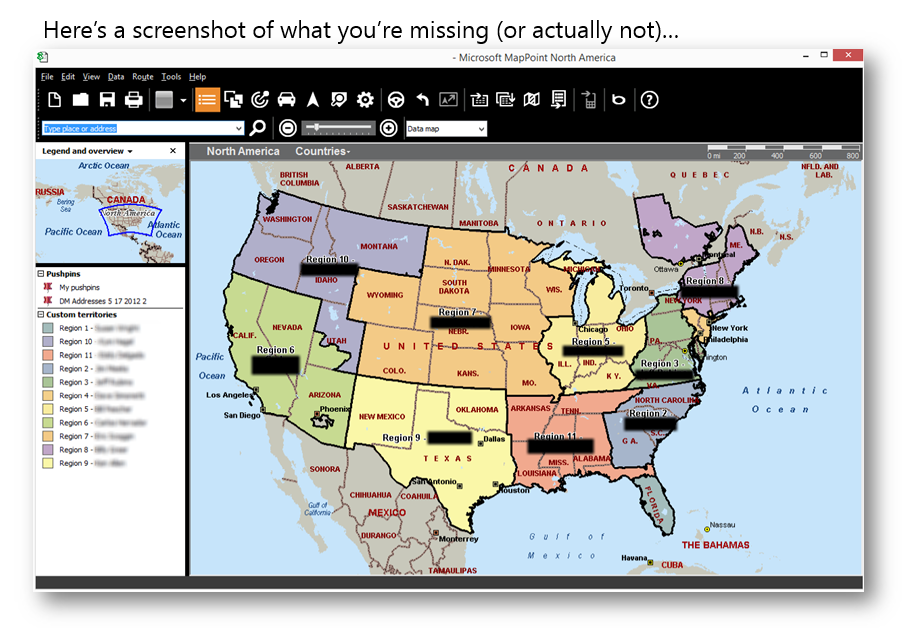 #3: MANAGING MULTI-TIER SALES ORGANIZATIONS
Larger companies typically have multiple tiers in their sales organizations. For example, sales VPs that oversee regional managers, regional managers that oversee sales people, etc. Let's say that you were able to cobble together a solution using the combined approaches outlined in challenges #4 and #5, tying together a multi-tiered structure based on geography is extremely difficult because you're not able to visualize these territory bounds together on a map!
For example, how can I visualize this on a map?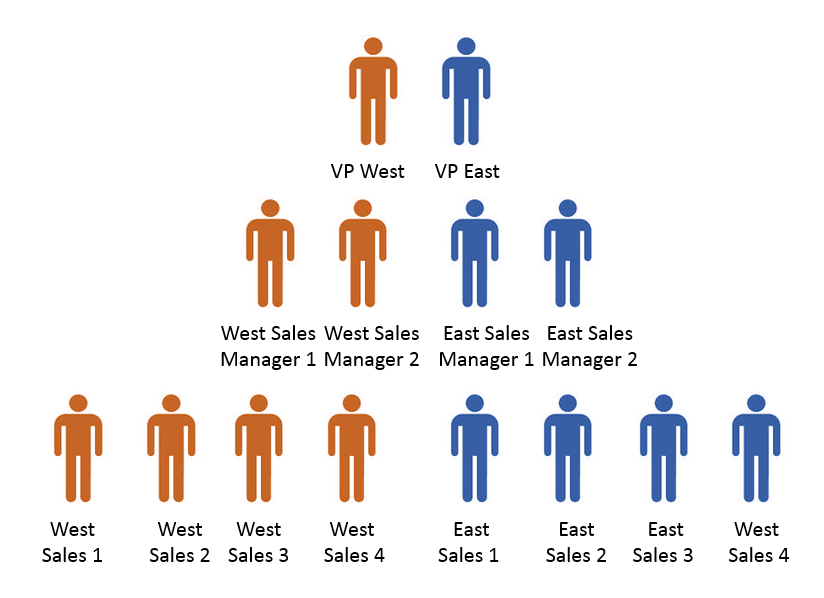 #2: BUILDING LEAD PACKS DAILY OR WEEKLY
For a number of organizations, such as those in the insurance sales industry, sales people receive new leads on a daily or weekly basis. The sales managers are typically responsible for creating these "lead packs" and sales people are selling to customers that are centrally located in a condensed urban area near the salesperson. Using MapPoint in the approach described above, is a nightmare. Managers are faced with importing and exporting data between MapPoint and CRM plus they have the issue of dealing with the mediocre editing/drawing capabilities of MapPoint.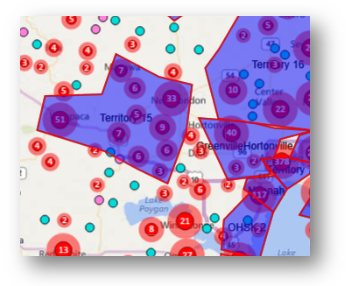 #1: DOING ALL TERRITORY MANAGEMENT DIRECTLY IN CRM
This isn't really a challenge, it just can't be done because of the required external processes presented above.
Wouldn't it be nice if you could manage a sales organization, on an interactive map, directly in CRM?
Addressing these challenges are what the EasyTerritory.com team is passionate about. If you're struggling with any of these challenges or simply want to start implementing territory management directly in CRM, stop by and see us at the CRMUG Summit (booth 1147) in October or give us a call today!
How EasyTerritory solves these challenges
ADDRESSING CHALLENGE #5: BUILD TERRITORIES DIRECTLY IN A CRM DASHBOARD
EasyTerritory comes with geographic data coverage for most of the world. From a CRM dashboard, you can build, manage and maintain your territories.

ADDRESSING CHALLENGE #4: MAPPOINT IS NO LONGER AN OPTION
EasyTerritory provides tools to export lists and geometries from MapPoint and import them directly into SQL for use in the EasyTerritory maps so don't worry that MapPoint is headed to the grave.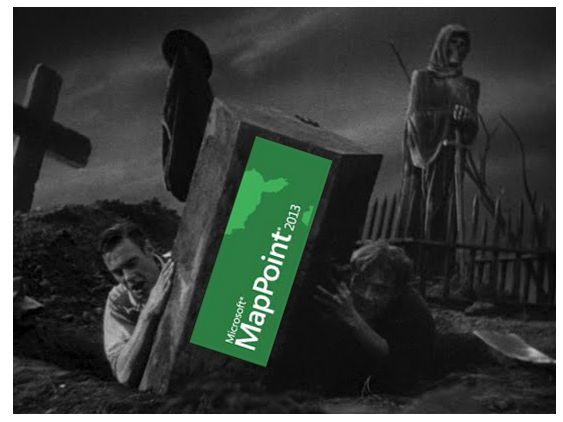 ADDRESSING CHALLENGE #3: MANAGING MULTI-TIER SALES ORGANIZATIONS
With the EasyTerritory interactive legend, you can build, manage, and visualize multiple layers that represent your multi-tiered sales organization. For example: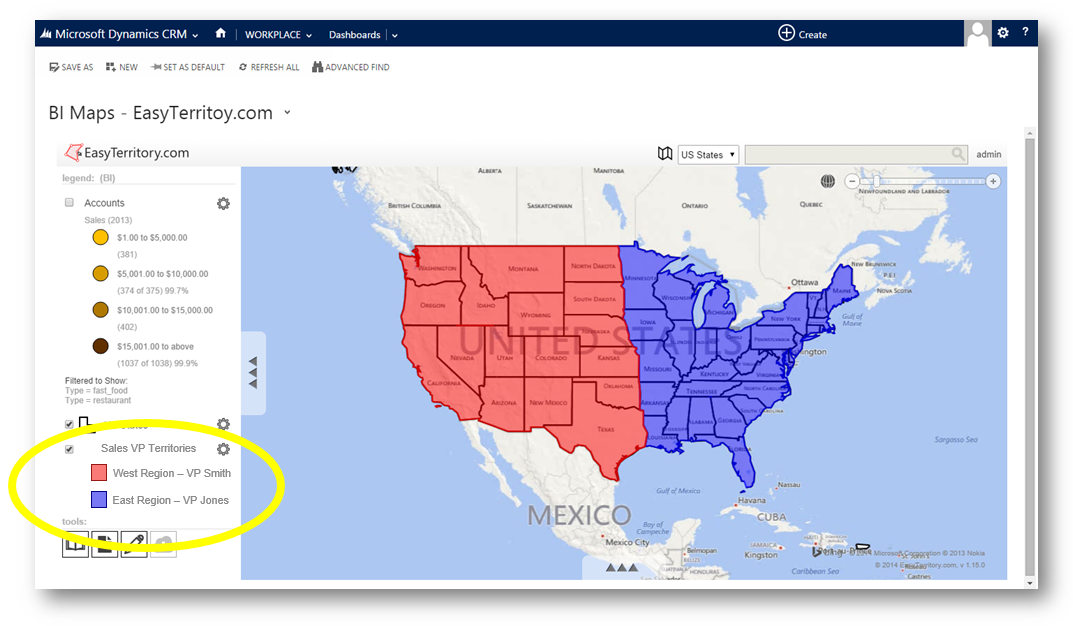 ADDRESSING CHALLENGE #2: BUILDING LEAD PACKS
EasyTerritory includes intuitive drawing capabilities that include vertex snapping for manually building territories.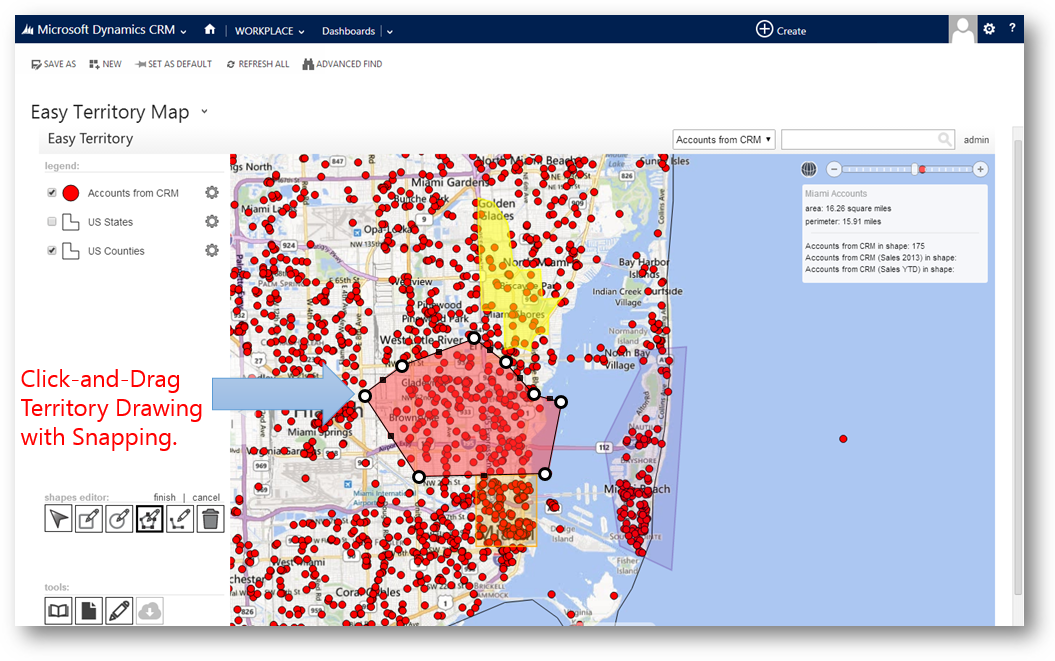 ADDRESSING CHALLENGE #1: DO IT ALL WITHIN CRM
The EasyTerritory application can be deployed on-premises or cloud-hosted by us. The application and all associated plugins integrate seamlessly into Dynamics CRM enabling territory managers to build, manage, and maintain everything without leaving CRM.
To see a demo of improved territory management in action, check out this YouTube video: https://www.youtube.com/watch?v=R4-uIlHWPG0
/wp-content/uploads/2020/01/EasyTerritory-Sales-Mapping-Software-Logo@2x-300x87.png
0
0
Kent Young
/wp-content/uploads/2020/01/EasyTerritory-Sales-Mapping-Software-Logo@2x-300x87.png
Kent Young
2014-11-18 17:38:41
2020-04-14 16:53:43
TOP 5 CHALLENGES OF TERRITORY MANAGEMENT IN DYNAMICS CRM