EasyTerritory Auto-builder
Despite the shifting economy and impacts of COVID, outside sales teams still constitute most of the US sales force. According to a report from TeleSmart Communications, inside sales represent 45.5 percent of the US sales workforce, while outside sales accounts for 52.8 percent. There are good reasons why outside sales will endure while telework is on the uptick. If your business deals with physical products, field representatives can showcase the benefits and features of the products and encourage potential customers to interact with them. Furthermore, external representatives can offer on-site training and consultative services more efficiently or more conveniently than when conducted virtually.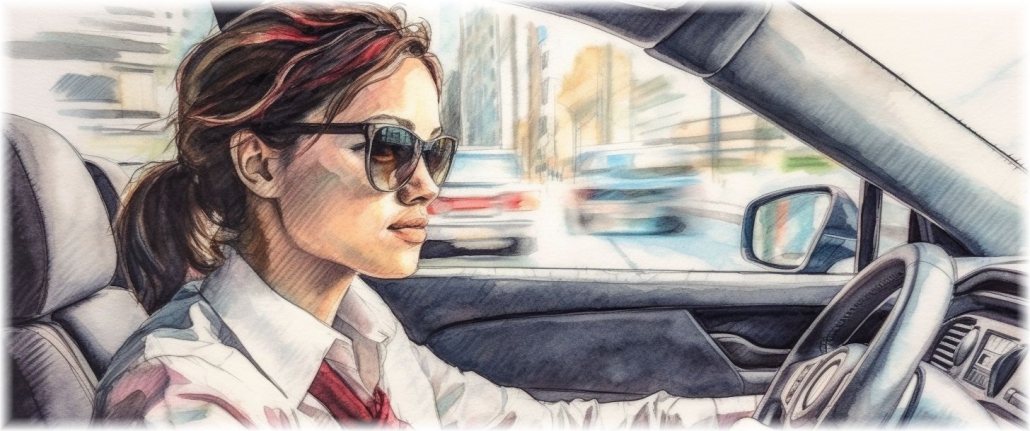 According to PayScale reports, outside sales commissions are, on average, 50% higher than commissions for inside sales. Outside sales reps typically have a higher success rate in closing deals, and the deals they close are often of higher value. However, outside sales reps have a heavier per-opportunity workload as they travel to meet clients, which is more time-consuming than making phone calls. As a result, outside sales strategies pay close attention to opportunity size.
Optimizing sales territories is challenging and vital for sales and sales operations leaders. Fair and equitable allocation and management of geography are critical for maximizing sales and profits, incentivizing salespeople, and providing customers with excellent service. The best territory plans give every rep a comparable workload and commission opportunity. A day's work of driving and face-to-face time ought to yield similar results, all other factors being equal.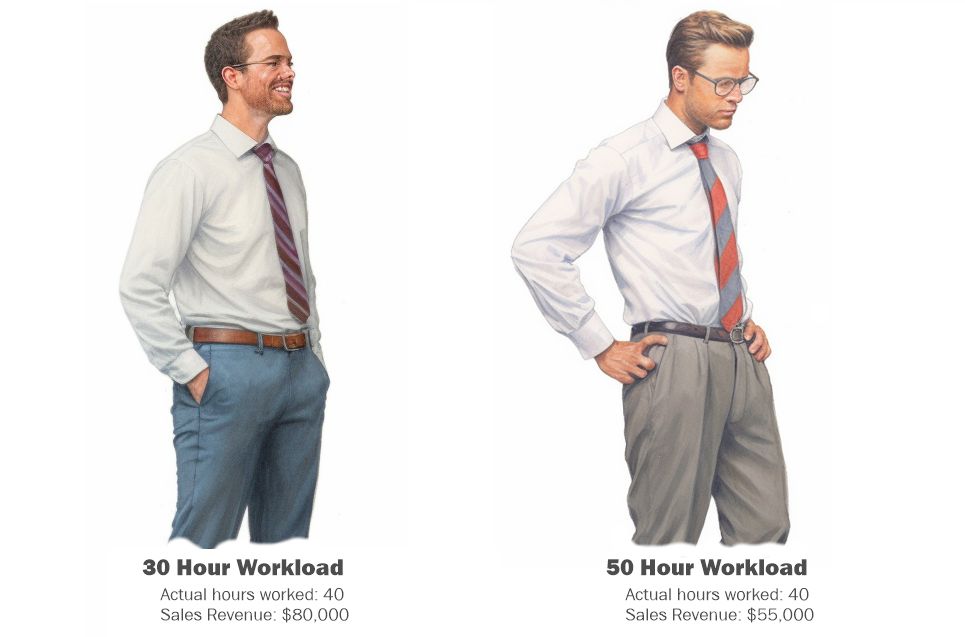 If two sales territories have the same commission potential based on corporate revenue but significantly differ in workload, it may indicate an inequitable situation. For instance, someone may feel dissatisfied if one region takes 50 hours of driving and visitation time to achieve what takes 30 hours in another area. A sales rep may work extra hours to reach their commission objective regardless of workload. However, some representatives may work a typical week and accept a lesser outcome. Ideally, you want to balance both workload and commission opportunities. This planning challenge is where EasyTerritory can assist.
A powerful capability of EasyTerritory is its Auto-builder feature. The auto-builder calculates equitable territories from a workload and incentive standpoint, where the workload is the total driving and on-site visitation time and where incentives correlate to a metric on the account data. The auto-builder accomplishes this task by combining geography parts, like puzzle pieces, into contiguous territories so that sales metrics and workload are equivalent across areas. The geography puzzle pieces can be postal codes, counties, states, and other geographic polygons EasyTerritory provides out of the box. Here is an example of the EasyTerritory auto-builder in action.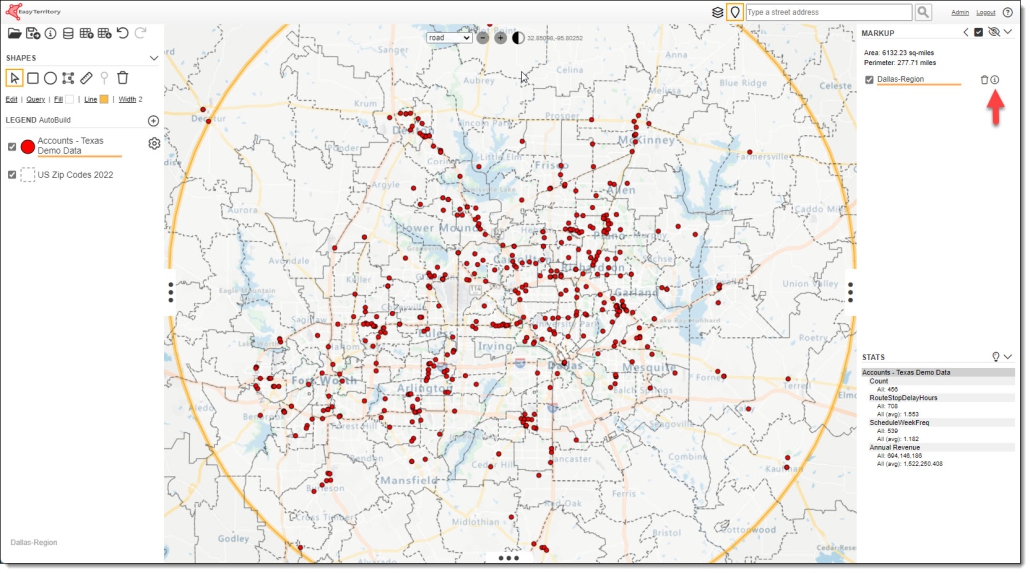 We want to create five territories in the Dallas, TX, area with comparable workloads and commission opportunities based on an annual revenue column in our account data. The accounts are the red point locations on the map imported into EasyTerritory. The first step is to draw a region containing the five territories. After creating the regional polygon, we need to edit the shape properties and click the query button to obtain all the postal codes we will use to construct our territories.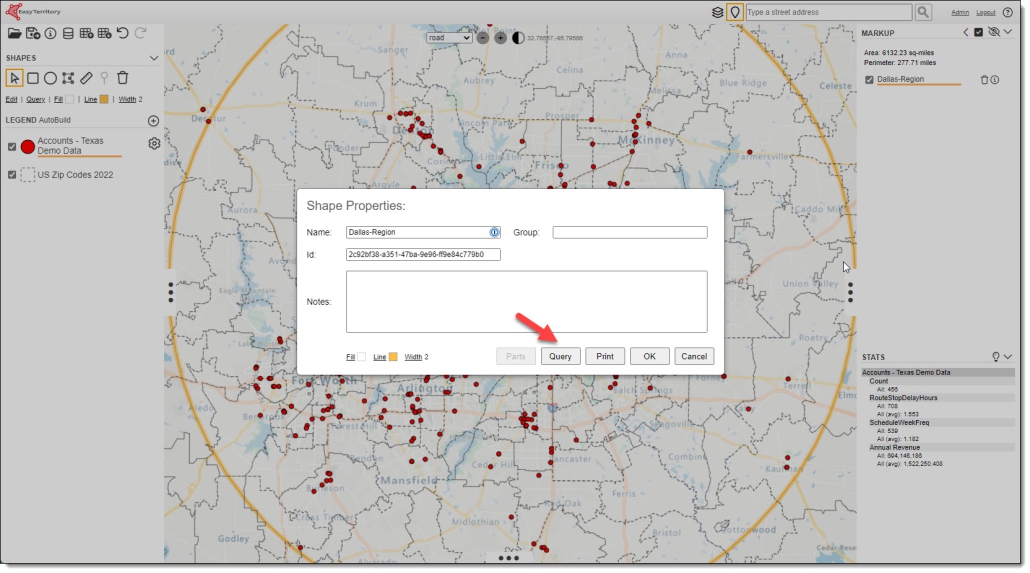 We choose the US Zip Codes 2022 layer from our map in the query dialog. Building territories from postal codes offers a couple of benefits. First, they are granular enough to allow for balanced areas. Using larger pieces, such as counties or states, will often lead to an imbalance. Secondly, building from postal codes opens up other features in EasyTerritory, such as location lookup. This feature assigns a relationship between a territory and a new lead or account record created in your CRM from the location zip code. But let's get back to auto-building.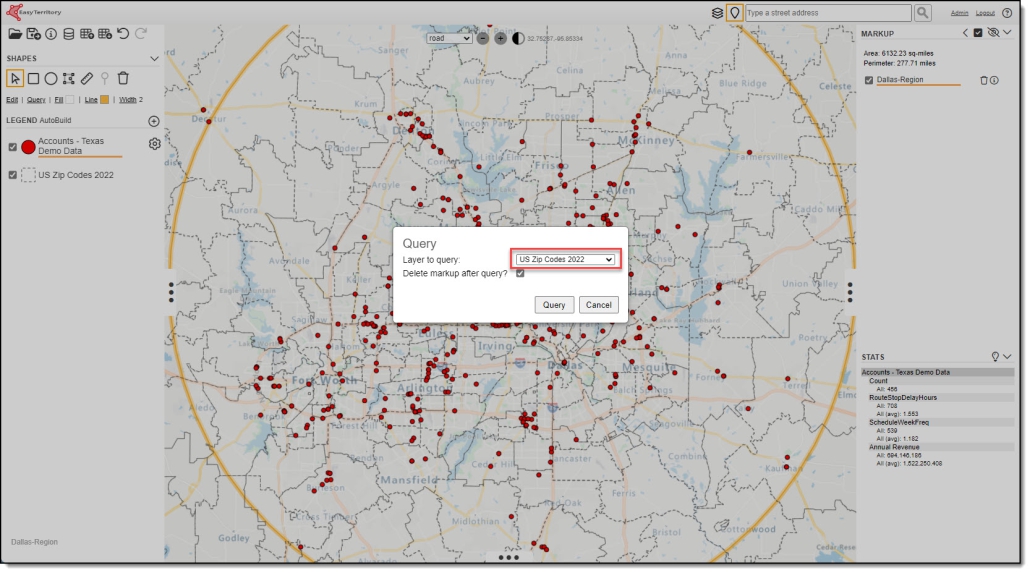 Once we pull in all postal codes to build out the Dallas area, we select the make territory link in the results grid.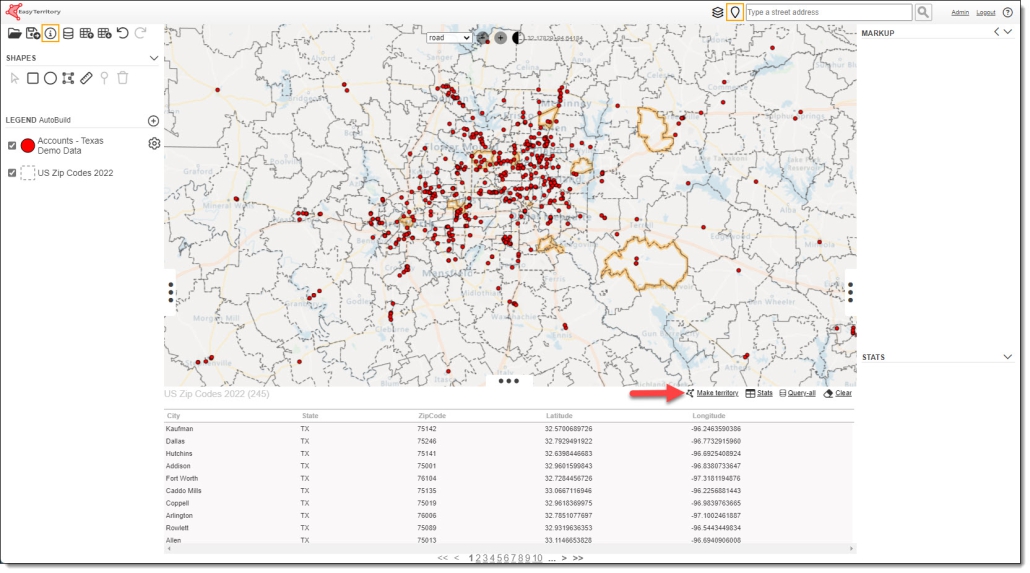 This step opens a dialog where you can give your territory group a name, such as Dallas-Region. You will notice a remove holes option. When checked, the auto-builder will remove any gaps in territories created during the building process. In rare cases where a postal code wholly contains another, and you do not want to fill the hole created, leave this option unchecked. But most of the time, you'll want to leave this checked.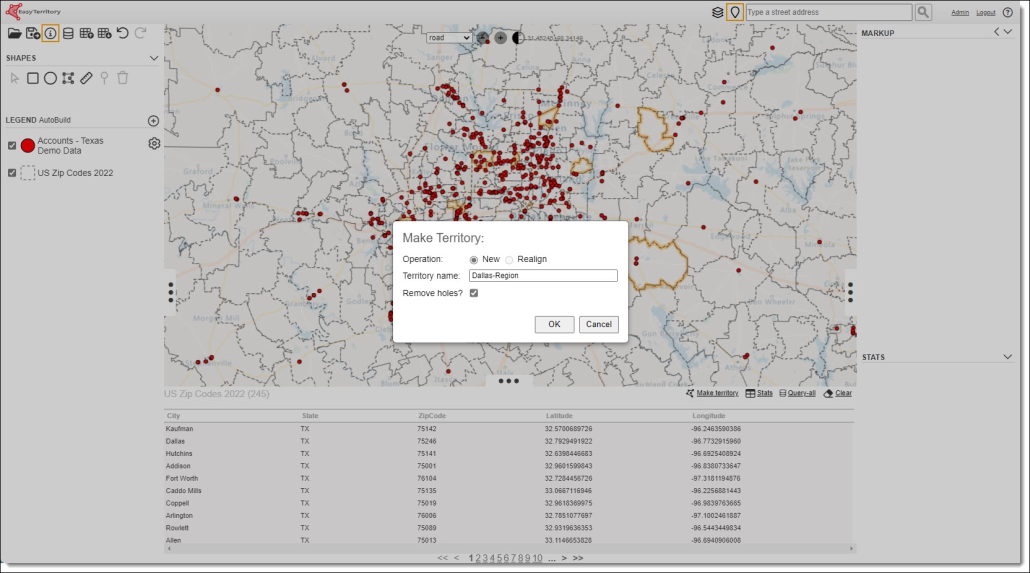 Next, a prompt asks whether you want one territory from your selected postal parts or multiple. We will choose the second option here since we wish to auto-build five areas. Choosing the first option builds a single territory from selected postal codes.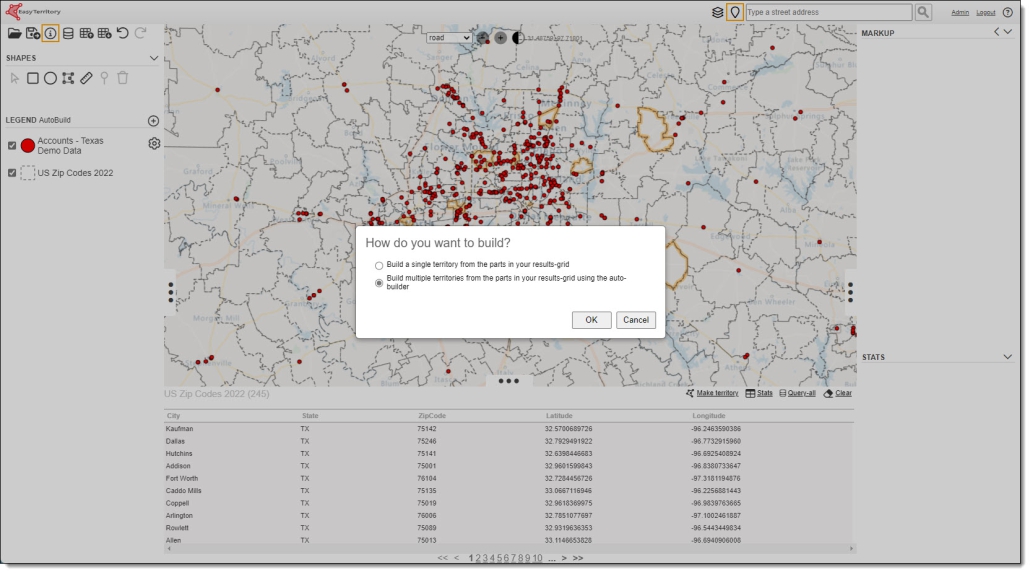 Next, we indicate that we want to create five territories. It's worth noting that the system will alert us if we attempt to make too many territories, as this could lead to unfavorable outcomes. If, for example, we only choose five postal codes with vastly different annual revenue data in each, the resulting five territories will also vary significantly since each area only contains one postal code. You must have many more geographic parts than territories in real-world scenarios.
Finally, we tell the system to balance our annual revenue column. If you select workload here instead, the system will only focus on each area's total drive and on-site time. This option may be appropriate for service scenarios where commissions take a back seat to SLAs. Under service scenarios where your account data does not have an on-site service time, you will receive an additional prompt for the average (across all accounts) on-site time in hours. But this parameter is optional for our sales scenario, where annual revenue is the critical metric.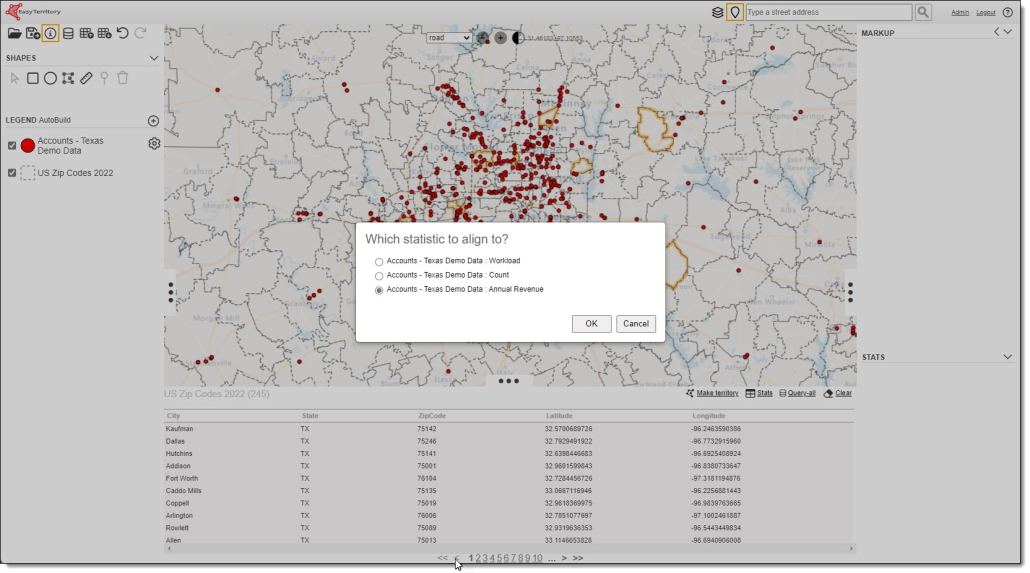 Once the auto-builder completes, you will see the five new territories on the map. As expected, the newly created territories share metro-area accounts with more rural ones. When you open the statistics panel, you can view each territory's annual revenue and workload. Expect them to be balanced. Rebuilding existing territory alignments, where a salesperson is added or removed from the region, can be done using the same process.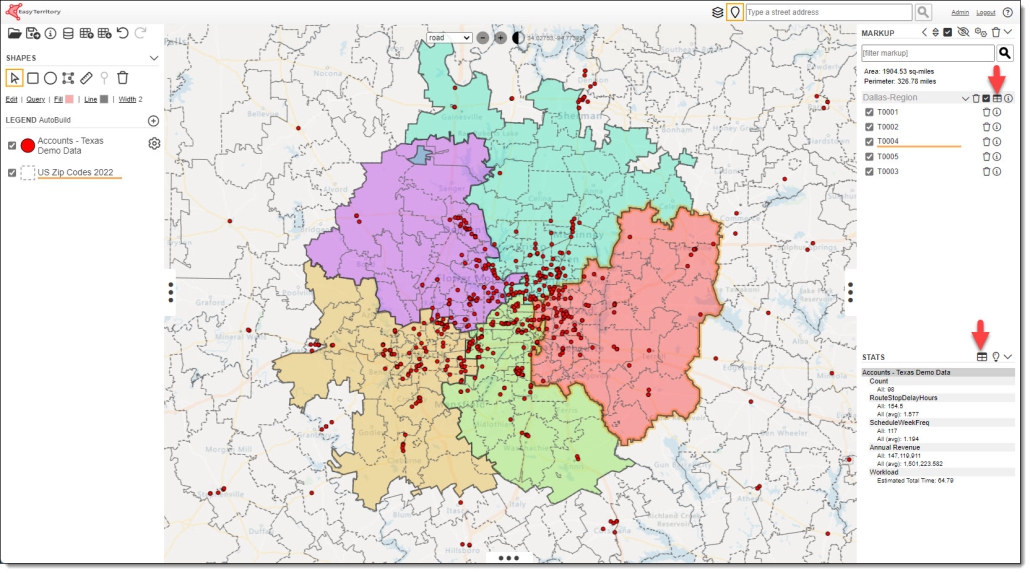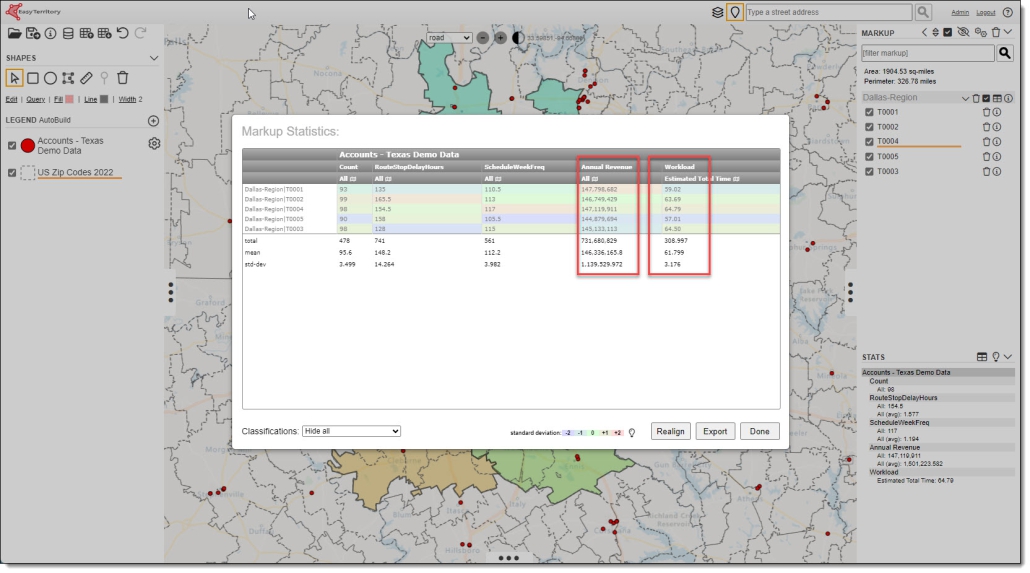 Contact EasyTerritory for an in-depth demonstration of this capability.
/wp-content/uploads/2020/01/EasyTerritory-Sales-Mapping-Software-Logo@2x-300x87.png
0
0
Brian Hearn
/wp-content/uploads/2020/01/EasyTerritory-Sales-Mapping-Software-Logo@2x-300x87.png
Brian Hearn
2023-06-23 15:32:53
2023-06-23 15:58:20
EasyTerritory Auto-builder