The EasyTerritory development team is excited to bring Microsoft Azure Maps support to market in our November 2018 release. The Bing Maps option remains fully supported, so our customers will have two excellent location services options from Microsoft. Let's look at the new Azure Maps Support in EasyTerritory!
Enabling Azure Maps
To enable Azure Maps support in EasyTerritory, an administrator merely needs to add an Azure Maps key in the EasyTerritory Settings panel. You will first need an Azure account. If you do not have one, you can create a free account here:
Azure Portal
Once inside the portal, you can create a new Azure Maps key by searching for "Azure Maps Accounts" and then clicking the +Add button.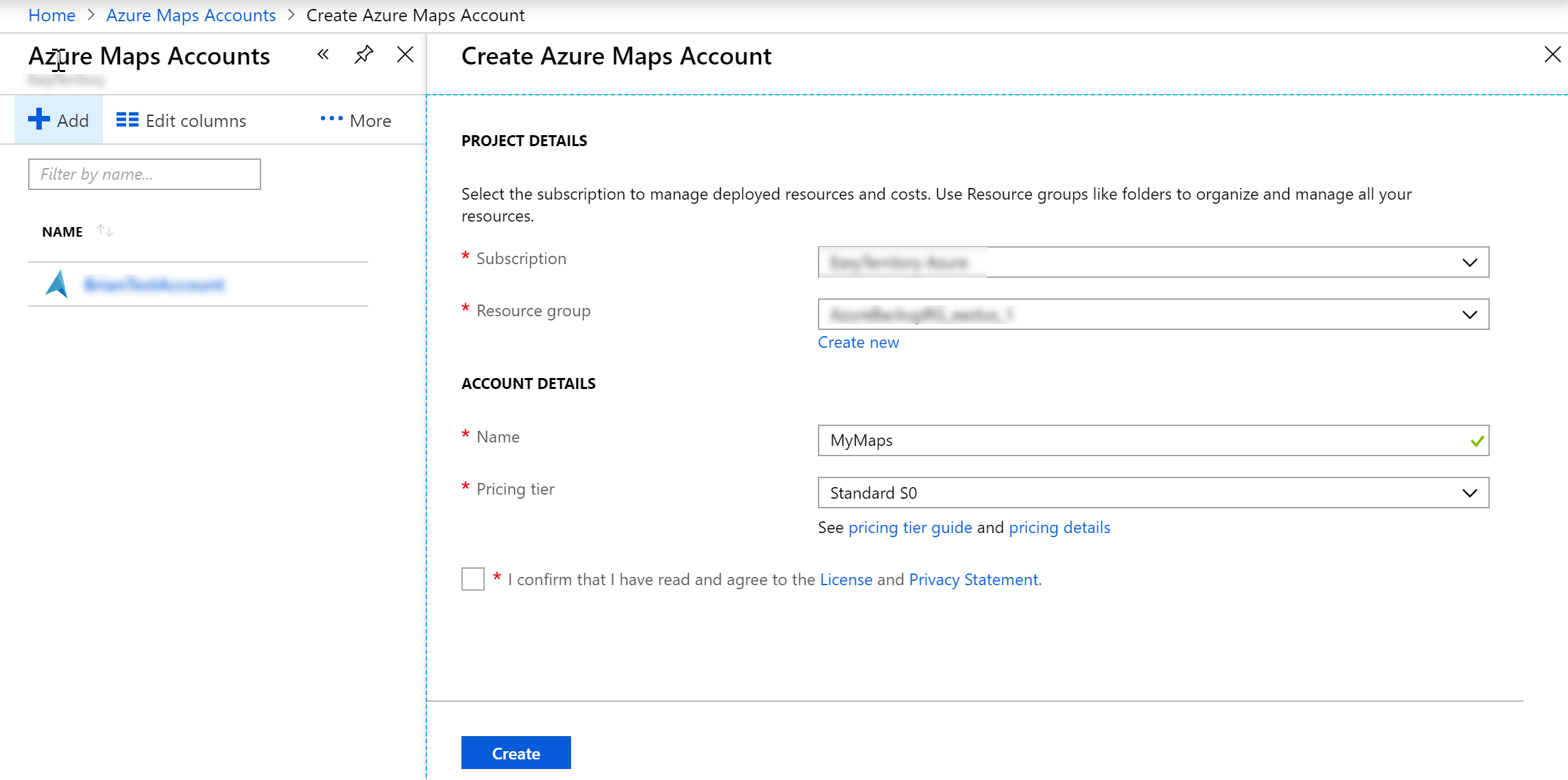 After creating an Azure Maps account, you can copy the key to your clipboard (from the "keys" section) and then paste it into the EasyTerritory settings field:

That's all that is needed to enable Azure Maps Support in EasyTerritory!
A New Look 
When you log in to EasyTerritory running Azure Maps, you will see a new base-map with a unique style that is different from Bing maps: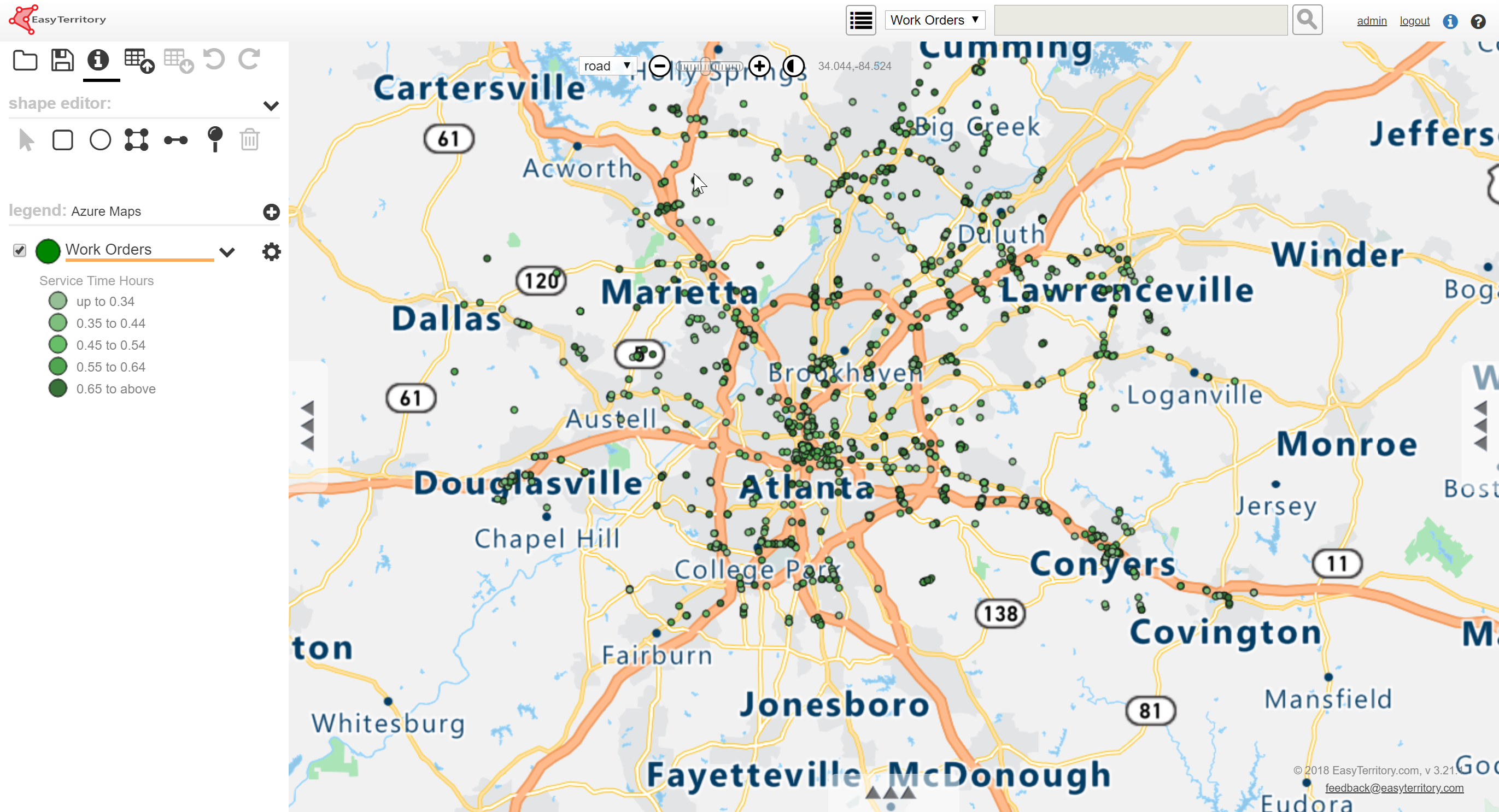 Azure Maps has chosen a style with less labeling at higher map scales to help reduce background noise and increase the readability of business data overlays. The map also uses new 512 by 512-pixel map tiles which reduces map load times and lowers map transaction costs by 75% over the same map using 256 by 256 tiles!
Currently, Azure Maps has fewer static-tile styles than Bing, but we expect that to change in the coming months. If you were used to the Bing "light road" map, you can obtain a similar look by clicking the EasyTerritory map contrast button at the top, to the right of the zoom buttons.
Location Services
The November Release of EasyTerritory fully supports Azure Maps geolocation services. The address search bar as well as CSV uploads (bulk geocoding) make use of the geocoding capabilities of Azure Maps. Our tests so far show excellent conversion percentages from typical business data addresses to an accurate latitude and longitude.
Bing integration in EasyTerritory provides POI (Points of Interest) support for loading schools, restaurants, coffee shops, etc., as a map layer. We hope to add a similar capability for Azure Maps in our Jan. 2019 release.
Routing Services
Azure Maps routes are fully supported in EasyTerritory. Routing over 25 stops is more efficient in Azure Maps and incurs fewer transaction costs. Overall, both Bing and Azure Maps routing is surfaced in EasyTerritory with excellent results.
Isochrone (Travel-time) Rings
The development team was excited to see direct support in Azure Maps for isochrones. EasyTerritory must make multiple complex route requests using Bing to compute isochrones – incurring multiple transactions. With Azure Maps, it's a much faster single-call. The results are quite a bit better as well: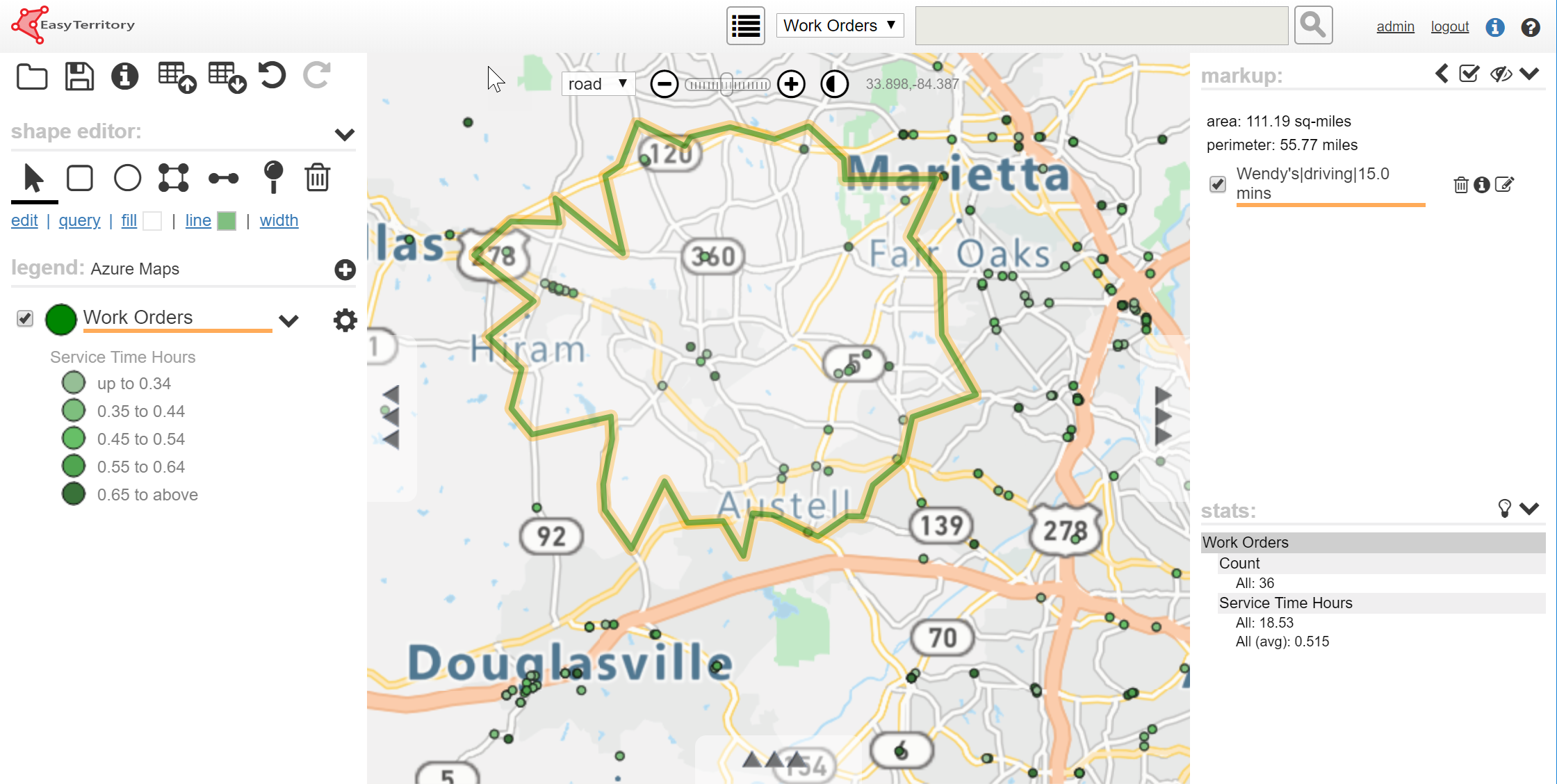 Conclusion
Overall, the development team was impressed by how well-designed Azure Maps Services are. It allowed our team to add support quickly into the product. Features using Azure Maps show very good performance and quality of results. For our customers; they will continue to have access to Bing and the great services it offers, as well as the new Azure Maps option, which may be a better choice in terms of price and quality for some scenarios.
Contact your administrator about upgrading to the November 2018 release of EasyTerritory and take advantage of Azure Maps!
"We are excited to see Azure Maps integrated into EasyTerritory. With its rich set of spatial features and integration into Microsoft Dynamics CRM/365 and PowerBI, this is a great solution for many of our customers."

–Ricky Brundritt, Senior Technical Program Manager, Microsoft
/wp-content/uploads/2020/01/EasyTerritory-Sales-Mapping-Software-Logo@2x-300x87.png
0
0
Brian Hearn
/wp-content/uploads/2020/01/EasyTerritory-Sales-Mapping-Software-Logo@2x-300x87.png
Brian Hearn
2018-10-17 14:57:50
2020-04-14 16:24:07
EasyTerritory Supports Azure Maps!