EASYTERRITORY ANNOUNCES JUNE 2017 RELEASE
The June 2017 release of EasyTerritory (v2.77.7) is available now. This release is packed full of exciting new features customers have been asking for. We will take a detailed look at some the new features below. If you are ready to upgrade, please contact your EasyTerritory account manager today.
Geocoder Updates (Version 2.0)

Improved geocoding performance and support for larger jobs
Improved column analysis to minimize user configuration of columns
Support to fallback to zip code
Simplified quality codes (Best, Good, Fair, Poor, Failed) to (Optimal, Suboptimal and Failed)
Support to keep track of failed geocodes
Better feedback while job is running
Ability to cancel a job

New travel-ring support allows for straight radius rings and multiple concentric rings
EasyTerritory log is now accessible in admin panel
Improved labeling of markup and route-stops
Dynamics CRM configuration is now available in settings panel
Added total row to all-statistics panel
Added layer where clause to data layers
GEOCODER UPDATES (VERSION 2.0)
The workflow for uploading Excel/CSV data with addresses is very similar to the previous version except the configure columns dialog is no longer presented to the user upon completion. The new geocoder intelligently captures more information from the below setup dialog eliminating the extra input in most cases. The previous geocoder used ambiguous quality codes which are now simplified. What used to be best is now optimal. Formerly good, fair and poor are now suboptimal. As for, failed, it remains the same.Corrected used to indicate the underlying provider (Bing) could not find the address but rather one sounding similar. This created a lot of confusion for users as the similaraddress might be nearby or in another city and therefore practically useless. These are all now mapped to suboptimal. The following are the new quality values:
optimal – the geocoder was able to specifically identify and locate the address
suboptimal – the geocoder was unable to specifically identify the address but was able to identify parts of the address, or one sounding similar, and get an actual location
failed– the geocoder was unable to locate the address, or one like it
optimal-with fallback – if postal code fallback is enabled, and the original address was not geocoded to an optimal quality, the geocoder uses just the postal code portion of the address and locates optimally at its centroid. Note: if a country code is provided, an attempt will be made by dropping it from the address prior to using the postal code only.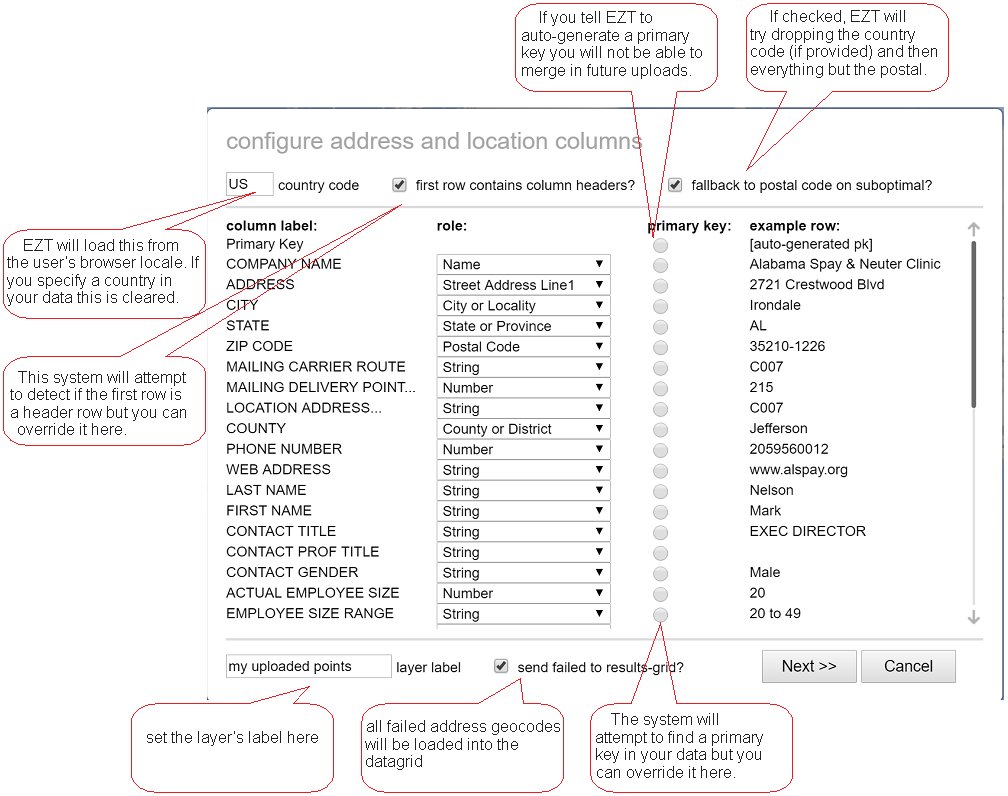 While the job is being processed, you get more information on progress and an option to cancel:

NEW TRAVEL-RING SUPPORT:
The new travel-ring support is accessible from a 'Create travel-ring' link on markers and callouts. This replaces the create-shape link from previous versions. There is a new travel mode for "straight line" rings (circles). Create travel-ring no longer creates two rings for driving, you can now select which one you want (either driving normal or in traffic). Finally, you can enter comma-delimited list of radii for multiple rings.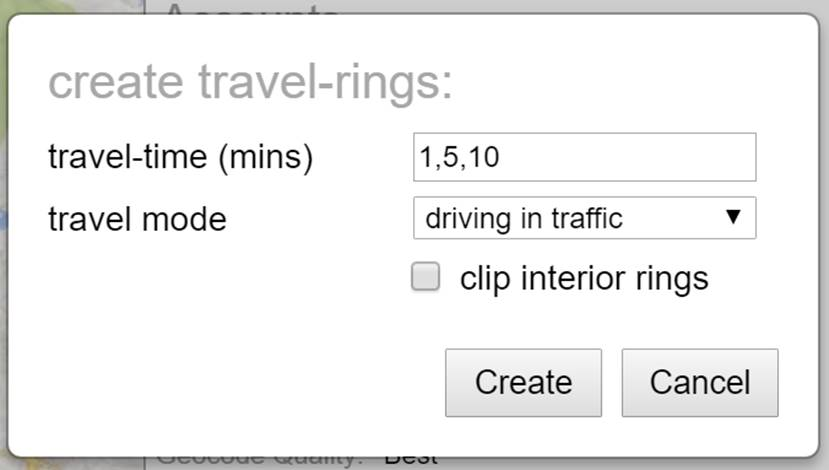 If you check the "clip interior ring" option then rings on the inside create holes in the outer rings.
This is an example of the new straight-line ring:
WHERE CLAUSE IN DATA LAYERS
This allows admins to filter a server or client layer using a SQL where clause (note you omit the "where" portion). This was added to support an awesome new feature coming in our August 2017 release, so stay tuned.

IMPROVED LABELING OF MARKUP AND ROUTE-STOPS
From customer feedback, we made the mark-up (territory) and route labels smaller with a smaller backdrop.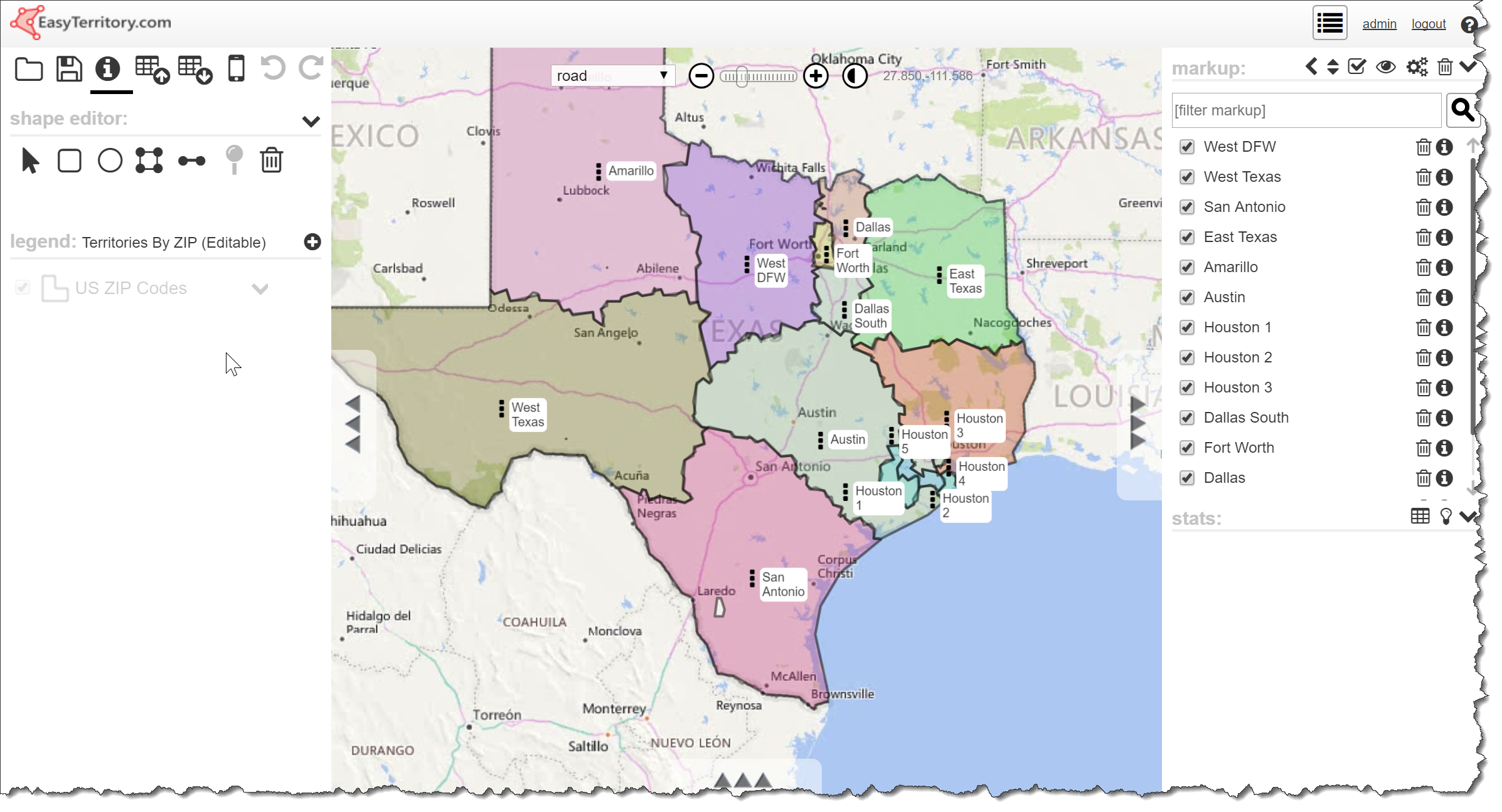 DYNAMICS CRM CONFIGURATION IS NOW AVAILABLE IN SETTINGS PANEL
In prior versions of EasyTerritory, an EasyTerritory support staff would have to apply application-level settings specifying your CRM end-point. In the June release, this can now be accomplished in the EasyTerritory admin panel 'Settings' tab by the customer.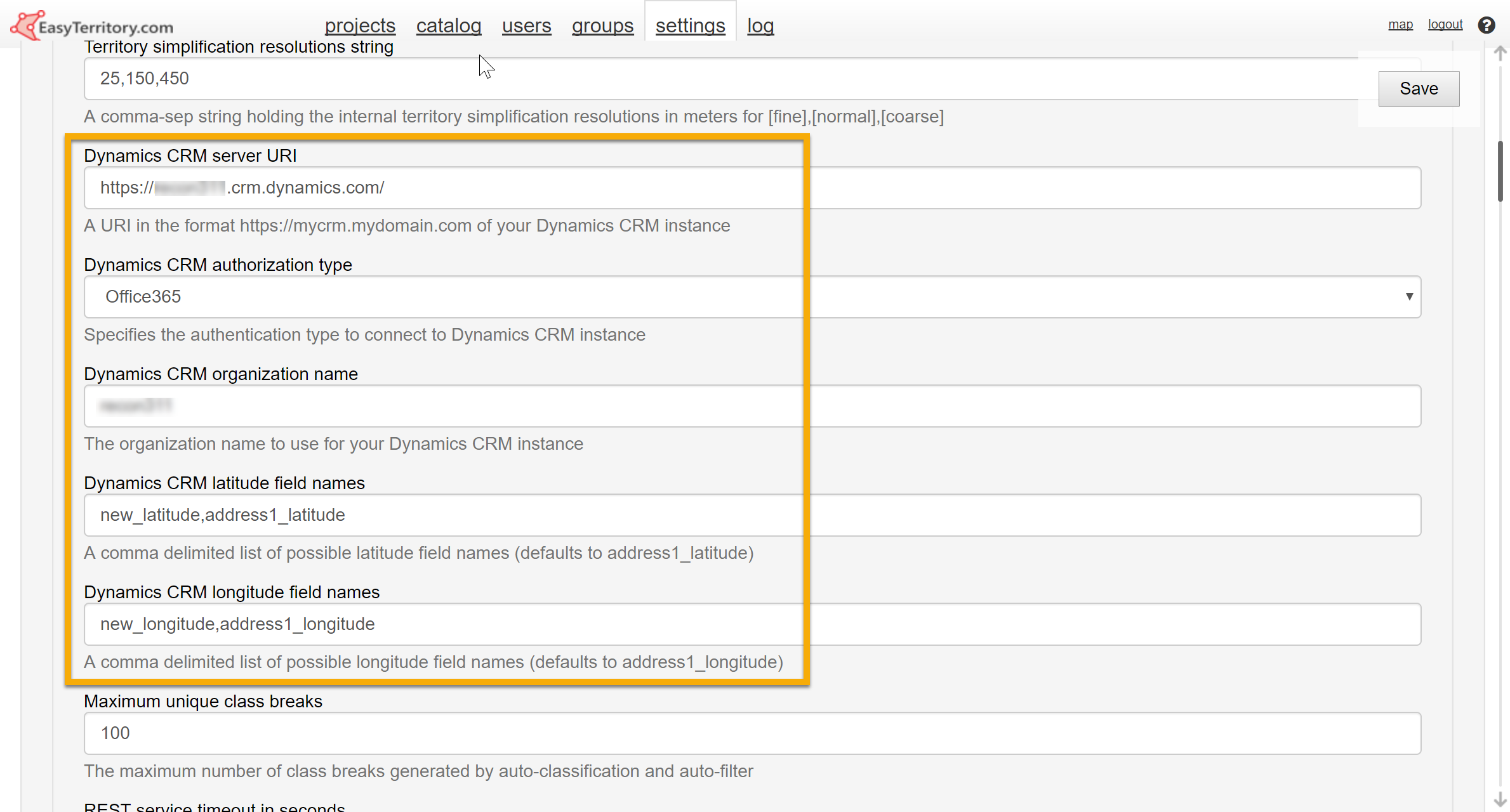 EASYTERRITORY LOG IS NOW ACCESSIBLE IN ADMIN PANEL
This will allow you to see all sorts of loggable events. Failed login attempts, failed plugin execution, CRM update issues, etc.

/wp-content/uploads/2020/01/EasyTerritory-Sales-Mapping-Software-Logo@2x-300x87.png
0
0
Kent Young
/wp-content/uploads/2020/01/EasyTerritory-Sales-Mapping-Software-Logo@2x-300x87.png
Kent Young
2017-05-22 19:23:54
2020-04-14 16:35:02
EASYTERRITORY ANNOUNCES JUNE 2017 RELEASE