The June 2016 release of EasyTerritory (v2.29.8) is now available! See below for more information about what's new in this release. If you're ready to upgrade, please contact your EasyTerritory account manager today.
RELEASE NOTES
New join tabular data with map layer
New Schedule partitioning support
Support for automatic hole removal in markup-builder
New toggle base-map opacity control on map
Support for GeoJSON format to markup export
Support for piped items in search-box will return on any that match
Ctrl-click on territories built with markup-builder in markup panel
NEW Q2 2016 Zip code data available
TABULAR DATA JOIN
The new tabular data join feature makes it possible to augment map layers like zip-codes or counties with business data (sales, counts, etc.) so that you can filter and classify the joined territory and business data.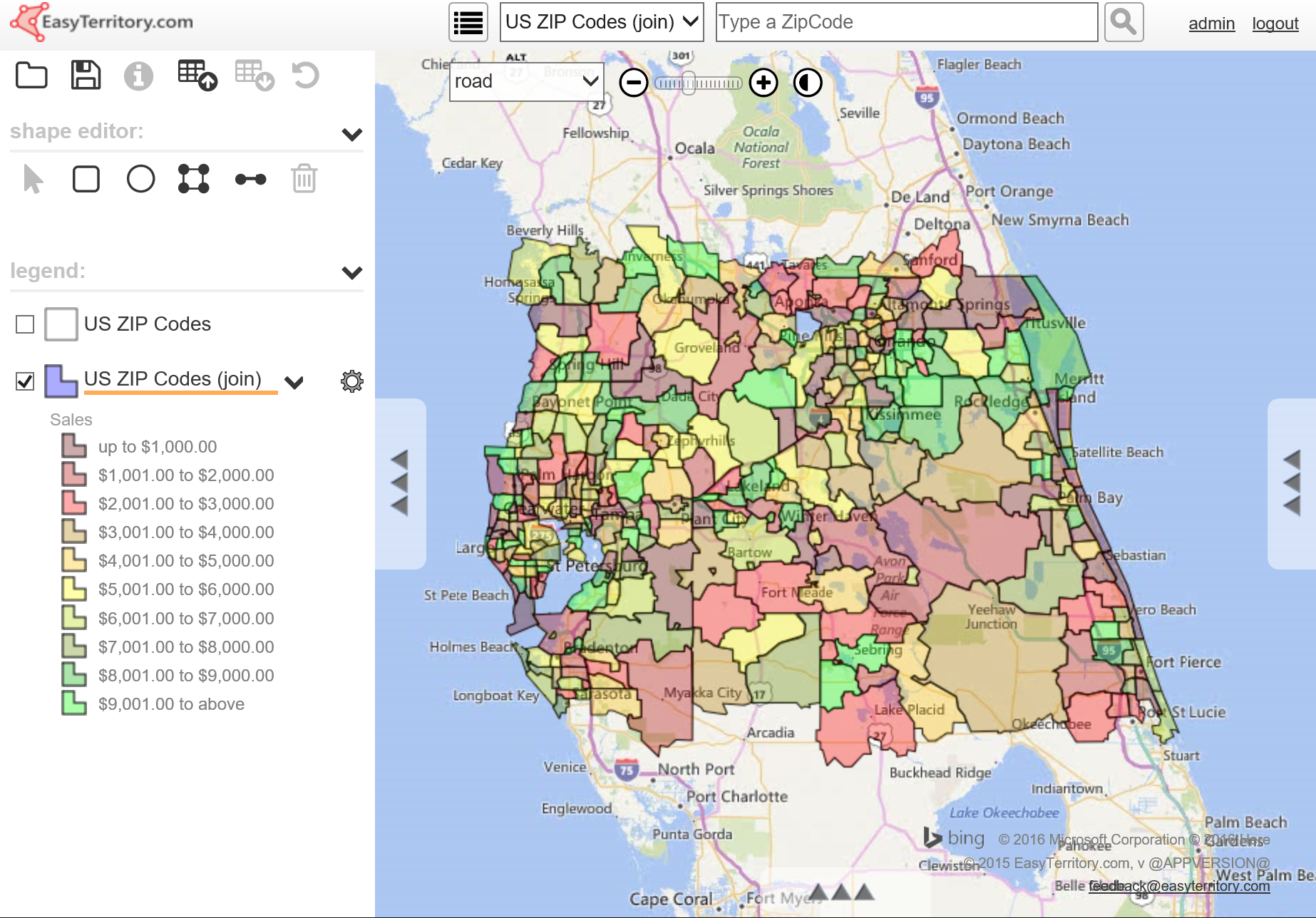 The following video demonstrates joining tabular data:
SCHEDULE PARTITIONING
This is an enhancement to our partitioning support allowing users to schedule visits (stops) at clients based on a schedule frequency in weeks. If your data has a schedule frequency column, then the partitioning feature can create partitions across some schedule period. If for example you are supposed to visit a sight every two weeks and you are creating an eight-week schedule, then you'd expect the site to appear in four partitions (clusters) spaced out every two weeks.
The following video demonstrates our new scheduling feature:
SUPPORT FOR AUTOMATIC HOLE REMOVAL IN MARKUP-BUILDER
There is a new checkbox in the markup-builder to automatically remove holes in territories. If you are building you data from zip codes and you are missing zips in a given territory, then your territory polygons will have holes in them. If you are missing a lot of zip records, then the territory can look messy and will perform poorly in shape statistics.
CTRL-CLICK MARKUP ITEM IN LIST
Ctrl-click on territories in the markup list for those built with the markup-builder and instantly re-populate the data-grid with source components. This makes it easy to load the data-grid with the zips or counties that make up your territories so you can do realignments.
/wp-content/uploads/2020/01/EasyTerritory-Sales-Mapping-Software-Logo@2x-300x87.png
0
0
Kent Young
/wp-content/uploads/2020/01/EasyTerritory-Sales-Mapping-Software-Logo@2x-300x87.png
Kent Young
2016-06-10 18:52:13
2020-04-14 16:49:32
EASYTERRITORY ANNOUNCES JUNE 2016 RELEASE