EASYTERRITORY ANNOUNCES FEBRUARY 2016 RELEASE
The February 2016 release of EasyTerritory (v2.17.8) is now available! This release includes performance and security enhancements. If you're ready to upgrade, please contact your EasyTerritory account manager today.
RELEASE NOTES
Route partitioning* – divide point records up by total time (stop delay and drive time)
Stop delays and leg times in turn-by-turn directions
Stop markers displayed on route stops on the map
Markup tags can be repositioned
Support for unique identifier in geocode upload process
Routing and partitioning now work with server-side layers
Can send data-grid results directly to the markup-builder
Added shape-stats by classification
Can now do shape operations on projects with only uploaded/geocoded data
Routing can be cancelled in mid-processing
Several fixes and improvements
*Partitioning allows users to divide point datasets into one or more clusters of equal time based on stop delays at each stop and drive time between stops. Partitioning, or "rough-routing", is used to break a large workload of service requests or sales visits into groups for each technician or salesperson. Clusters created by the partitioning step can be fine-routed to get detail driving times and directions.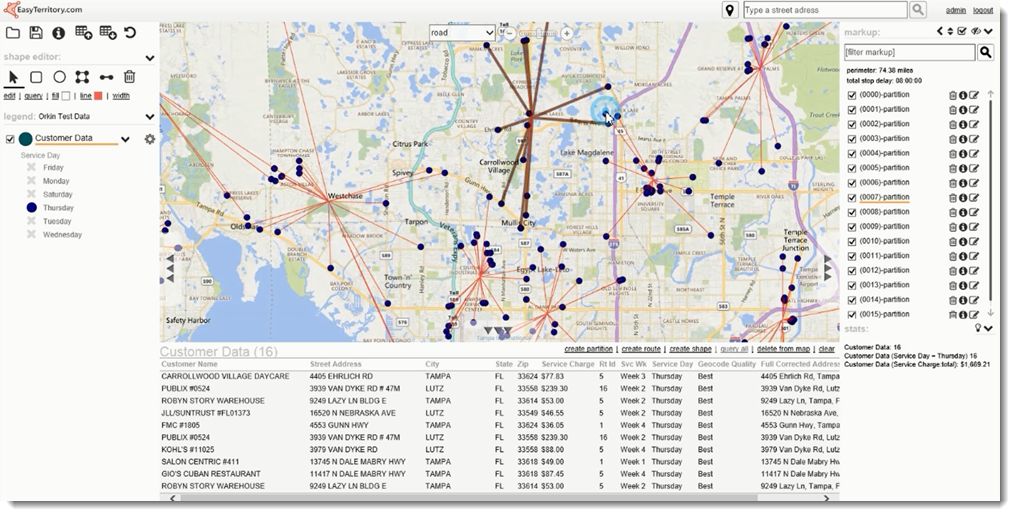 /wp-content/uploads/2020/01/EasyTerritory-Sales-Mapping-Software-Logo@2x-300x87.png
0
0
Kent Young
/wp-content/uploads/2020/01/EasyTerritory-Sales-Mapping-Software-Logo@2x-300x87.png
Kent Young
2016-02-01 18:37:45
2020-04-14 16:50:22
EASYTERRITORY ANNOUNCES FEBRUARY 2016 RELEASE