EasyTerritory is excited to announce our November 2020 release. This release is packed with enhancements and new features as outlined below:
Enhancements
Enhancements included in the November 2020 release include:
New Auto-realign routes in Markup Statistics Panel allows automatic route adjustments for further optimization
New perma-link support for all three markup exports
Routes and partitions now automatically update when underlying stop data changes
Intelligently insert manually-added stops into a route so that it is in the correct stop order to minimize drive time
Override-flag support when manually editing partitions and routes to prevent "HOLD" stops from moving and to automatically update "CONFORM" stops to the new route
Total driving and total stop times added to route exports
Total time and drive times are now displayed in partition and route statistics
New support to auto-refresh at start-up columns that were auto-classified
New Power BI markup export
Can now bulk-upload groups in administration
New white-labeling support
Support for Open ID Connect on AD FS 2016+
New geocoding usage API
Support to build multiple territories from a set of points with a territory id
Added support for new PCF control
Can now use an end-address for a route without the use of a start-address
Route and partition stop-delay dialog field now defaults to an administrative setting
Greatly improved undo/redo support
New Feature
One of the new features included in the November 2020 release is the Auto-Realign Routes feature that can be found in the Markup Statistics for a group of routes. With a single click a full group of routes can be realigned to further optimize workload balance and limit travel-time for outside reps.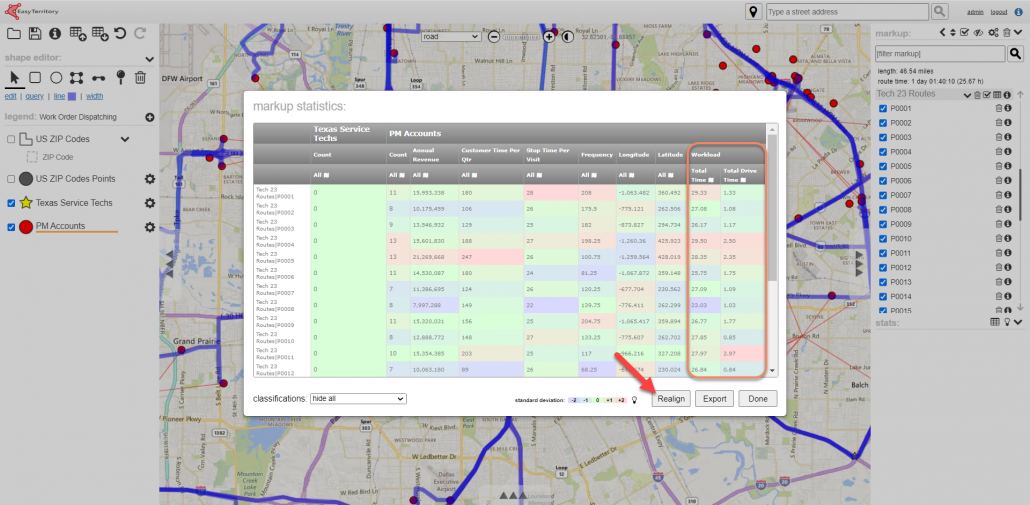 A full explanation of these features will be added to our blog in the near future.
To find out more information regarding this release, or if you are ready to upgrade or wish to sign up for a free trial, please contact us at sales@easyterritory.com.
/wp-content/uploads/2020/01/EasyTerritory-Sales-Mapping-Software-Logo@2x-300x87.png
0
0
Blake Chambers
/wp-content/uploads/2020/01/EasyTerritory-Sales-Mapping-Software-Logo@2x-300x87.png
Blake Chambers
2020-11-13 21:35:41
2021-01-15 10:59:42
November 2020 Release!