Join EasyTerritory in Orlando at the 2019 Summit, October 15th – 18th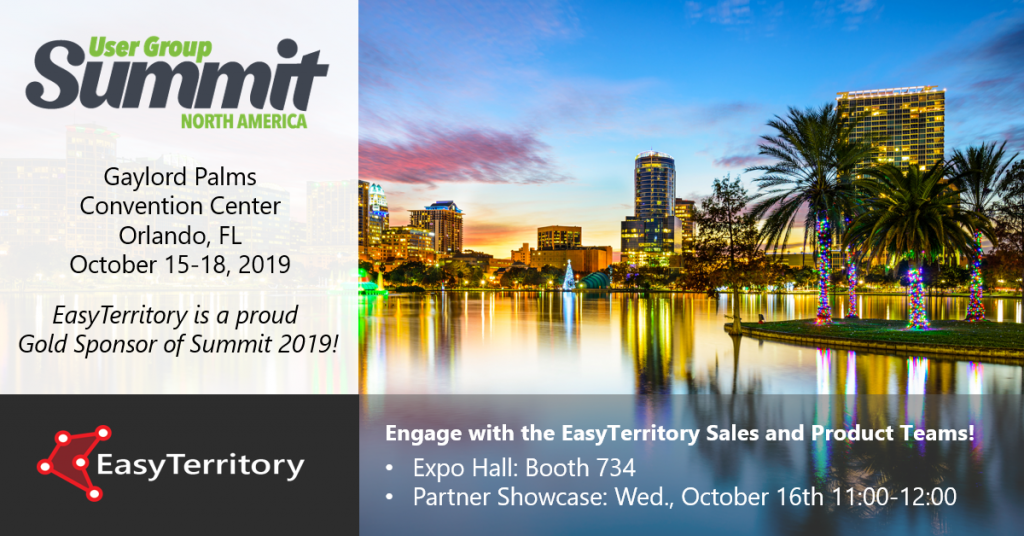 October is here which means that it's time for the largest Microsoft Dynamics 365 and Power Platform event of the year!  Join EasyTerritory and ten thousand of your fellow Dynamics users and administrators for a week of sharing, learning, and fun.  This year's event is in our sunny backyard in Orlando, Florida and we're bring the EasyTerritory crew.
If you're going, here are several ways to meet up with us.
Join us on the expo hall floor
As a Gold Sponsor, we'll have a 10×20 booth staffed with members of our sales, support, and product teams.  Stop by to see us and get some cool EasyTerritory swag.  We'll be in booth 734.
Attend our Partner Showcase session
Title: Territory Management and Locational Insight with Power BI + Dynamics 365 + Azure Maps + EasyTerritory
Time: Wednesday, October 16 11:00-12:00 AM
We're really excited about this session.  Join us to see how these amazing technologies come together to make the ultimate territory management package.  You'll also get sneak peek at our new Power BI map visual for displaying territory data!
More session details: https://cdmcd.co/W4Jvw
Coordinate a private meeting
If you'd like to schedule a one-on-one meeting with any of our team members to discuss territory management stategies, product features, or partnering, please email me at (benton at easyterritory.com) to coordinate.
Register today!
It's not too late to register (especially if you're in the Orlando area!)
Here is a brief business justification:
User Group Summit delivers the can't-miss annual conference for users of the Microsoft Business Applications platform – featuring education on all versions of Dynamics 365, AX, CRM, GP, BC/NAV, Power BI, PowerApps, and Microsoft Flow. With credible peer-to-peer knowledge exchange at its core, this event provides focused learning and networking as users gain instrumental solutions for their everyday system challenges and larger organizational goals. In every industry and across the globe, Summit is well known as a premier user-centric experience.
At Summit, attendees will have access to:
• Summit is the only in-person event featuring user-produced education on how to maximize the performance of your software, regardless of version, to further your job role, career, and product investment.
• Expertise is shared openly and honestly in an authentic community-driven environment that allows you to home in on your region, industry and role—providing the ultimate customized experience that offers return on investment year-round.
• Network with peers who are in similar roles and face the same issues on a daily basis and receive un-biased support/problem-solving.
Hope to see you there!
Benton and the EasyTerritory Team
/wp-content/uploads/2020/01/EasyTerritory-Sales-Mapping-Software-Logo@2x-300x87.png
0
0
benton
/wp-content/uploads/2020/01/EasyTerritory-Sales-Mapping-Software-Logo@2x-300x87.png
benton
2019-10-02 19:37:13
2020-04-13 16:57:29
Join EasyTerritory in Orlando at the 2019 Summit, October 15th – 18th