Sales Mapping Software for Dynamics 365 for Sales
Territory management within Microsoft Dynamics 365 for Sales doesn't have to be a cumbersome or complicated process. A good territory management process will lead to a huge return on investment (ROI) for a company, and can help drastically improve sales performance for your sales team. In this article, you'll learn how EasyTerritory sales mapping software can empower your organization's sales management using mapping technology, to achieve maximum return on investment in territory building and realignment activities.
Automatically Import and export account data for area mapping in sales
Sales managers and analysts can spend anywhere from hours to weeks pushing and pulling business-data between their CRM and desktop-based mapping software. By leveraging Software-as-a-Service (SaaS) territory mapping software that integrates directly with Dynamics 365, sales managers spend less time managing files and more time analyzing and performing territory optimization for their sales team.
A good sales territory mapping software ("territory tracker") not only provides this direct-integration for importing accounts but automatically makes rep assignments in Dynamics 365 based on your territory alignments.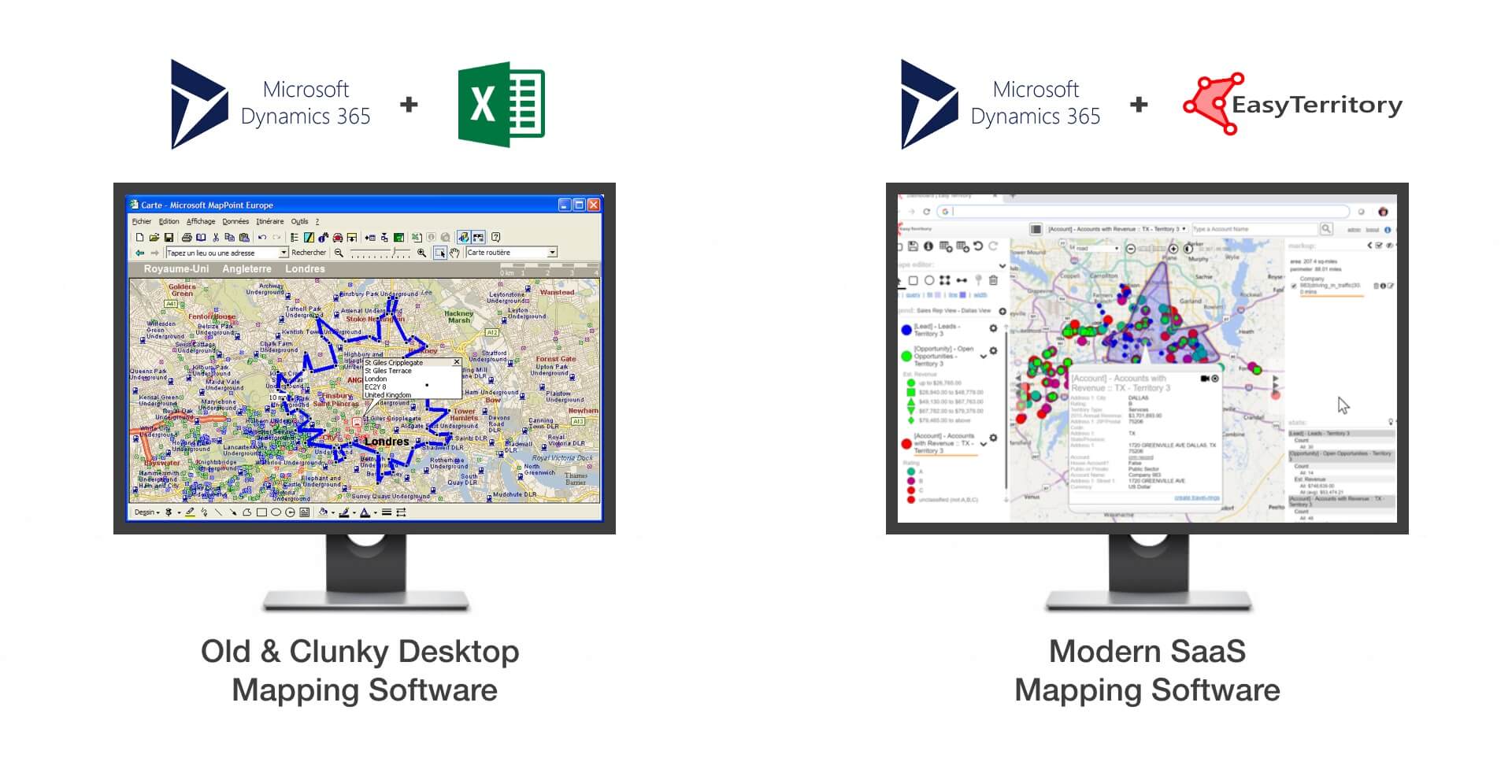 Geo-enable your business data and visualize it on a map
With only an address on accounts in Dynamics 365, you have no choice but to build sales territory mapping by zip code, city, state or by some other means that ignores location. Using such an approach will likely result in a poor territory coverage plan, with unbalanced regions, full of gaps and overlaps creating inefficient transit.
By geo-enabling your account data, you can get exact locations visualized on a map. Now your territory coverages are balanced and contiguous, shifting upwards of 20% of your rep's windshield-time to Facetime with customers. A good sales territory alignment software will help facilitate geo-enabling your data in Dynamics 365 quickly.
Build a quality baseline territory alignment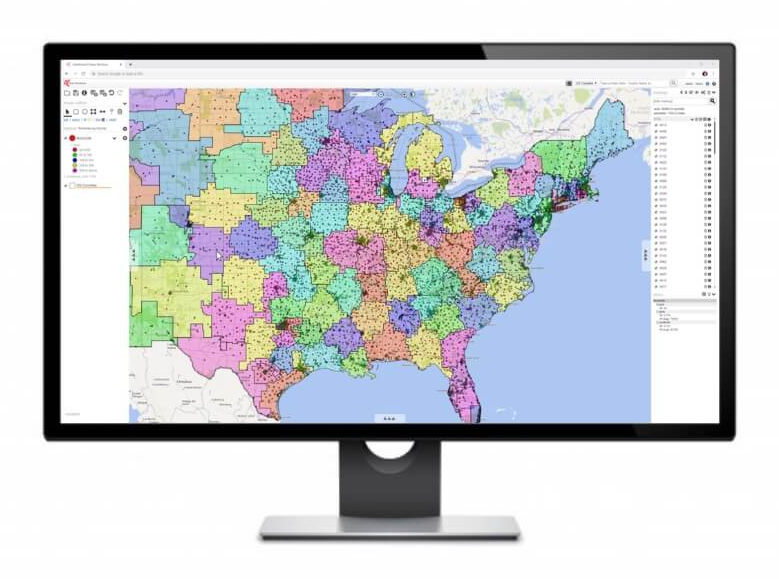 Many organizations have sales territories. They may be loosely defined merely by the assigned sales manager, or spatially using some geographic boundary such as a postal code. When it's time to move to a full-fledged territory management software with sales mapping tools, you want to make sure you can quickly and accurately build out a baseline with whatever data you have collected. For most organizations, the US ZIP Code data is vital.
For a global sales organization, you may need other kinds of boundary datasets. A good territory planning software will provide the tools and data necessary to build out a quality baseline without having to spend time and money compiling data or going through a 3rd party for boundary datasets.
Shorten realignment activities
Depending on your organization, realigning territories may be anything from a tedious annual activity to a daily routine. The number of hours planners spend on this task can be enormous, but a good online sales territory mapping software will reduce this effort by as much as 75%, once you learn the process of how to map out a sales territory with EasyTerritory. The key is spatial business intelligence through real-time statistics.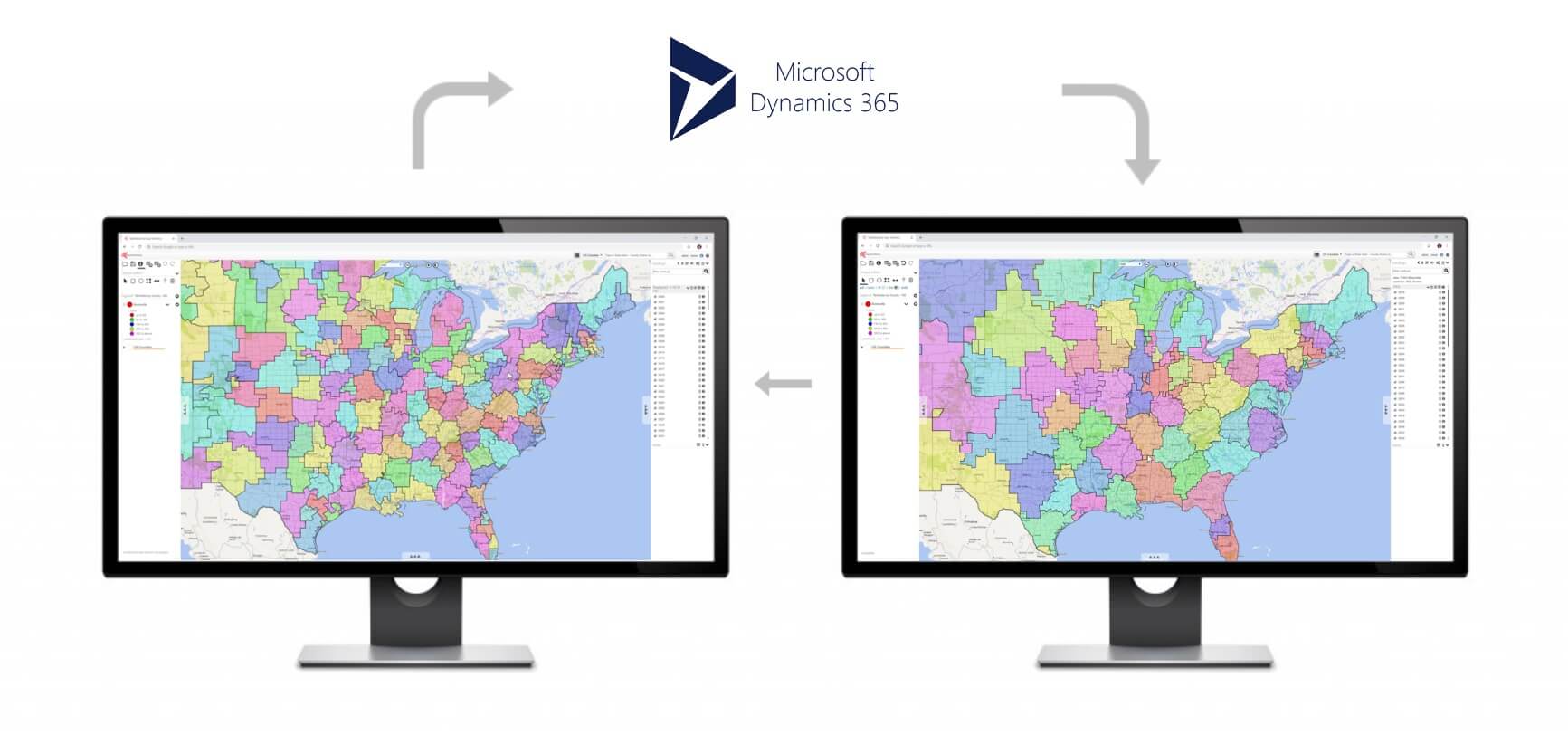 Realigning your sales rep territory map requires knowing how a change impacts your stats. Whether it's visit-duration, sales volume, store rating, on-site time , or any other metric, you will need to be able to see the impact quickly during realignment. A good online territory mapping app with route planning not only provides real-time statistics but tools for automatically making realignments based on the stats, in order to achieve optimized sales territories.
Learn from your Data
The final step to significant ROI with online territory mapping software integrated with Dynamics 365 is the ability to improve your territory alignments over time. A good territory mapping program will provide tools such as comparative statistical analysis to see how all of your territories stack up against each other using account metrics.
You should be able to use spatial business intelligence to view KPIs overlaid on your current alignment to see where changes are needed. When an organization is able accurately predict the number of sales reps needed to service their potential market and build smarter sales route mapping strategies, they can save hundreds of thousands if not millions per year in staff overhead!
To learn more about building a territory plan map and view a sales territory example, check out the EasyTerritory demo videos. Also, check out our Q&A with Microsoft Dynamics 365 MVP, Rick McCutcheon.
For more information on how EasyTerritory can help your organization achieve big ROI by integrating with Dynamics 365, please register for a demo and free trial.