EasyTerritory, the Leading Microsoft MapPoint Alternative
What makes EasyTerritory the best Microsoft MapPoint replacement?
The answer is simple, direct CRM integration makes it the best! With Microsoft MapPoint sales managers and analysts would spend hours to weeks pushing and pulling business-data between their CRM and MapPoint via Excel. EasyTerritory is territory mapping software that integrates directly with Microsoft Dynamics 365. This means that sales managers spend less time managing files and more time analyzing their sales rep territories.
EasyTerritory not only provides direct CRM integration for mapping leads, accounts, and opportunities it also supports automated lead assignments in Dynamics 365 based on your territory alignments. Your users would spend days to weeks learning how to use MapPoint, with EasyTerritory, they can start uploading data in minutes.
EasyTerritory has earned a top spot in Microsoft's list of best MapPoint Alternatives. Whether you plan on using the Bing Maps Platform on a new project or you've been using MapPoint 2013 and need a replacement, EasyTerritory is the answer.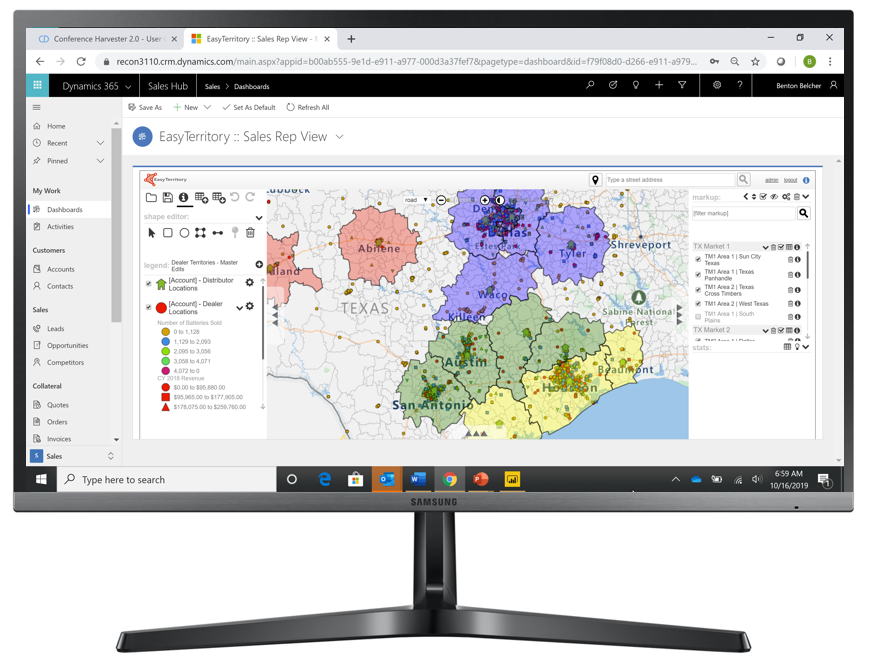 Is your company still using Excel for managing territories?
It's okay if you're still using Microsoft Excel to map your organization's data. EasyTerritory supports importing and exporting with Microsoft Excel to perform on-the-fly geocoding using the leading Microsoft mapping software platforms, Azure Maps or Bing Maps (the best Google Maps alternatives) to map point (e.g. accounts, leads, opportunities) and territory data.
Take business intelligence to the next level!
MapPoint, being desktop software, locked maps and location data in silos! With support for publishing territory alignments to Power BI, it has never been easier to share territory information across an enterprise organization.
The EasyTerritory platform is a perfect addition to your Power BI implementation, providing map visuals for displaying territory polygons, map point data, and integrate geographic datasets such as US ZIP Codes. Creating reports and dashboards can give sales managers and company executives to analyze territory performance across the company.
Historically, a MapPoint download was required for users to access maps. EasyTerritory supports collaboration across an organization using modern single-sign on platforms such as Azure Active Directory, ADFS, and Auth0.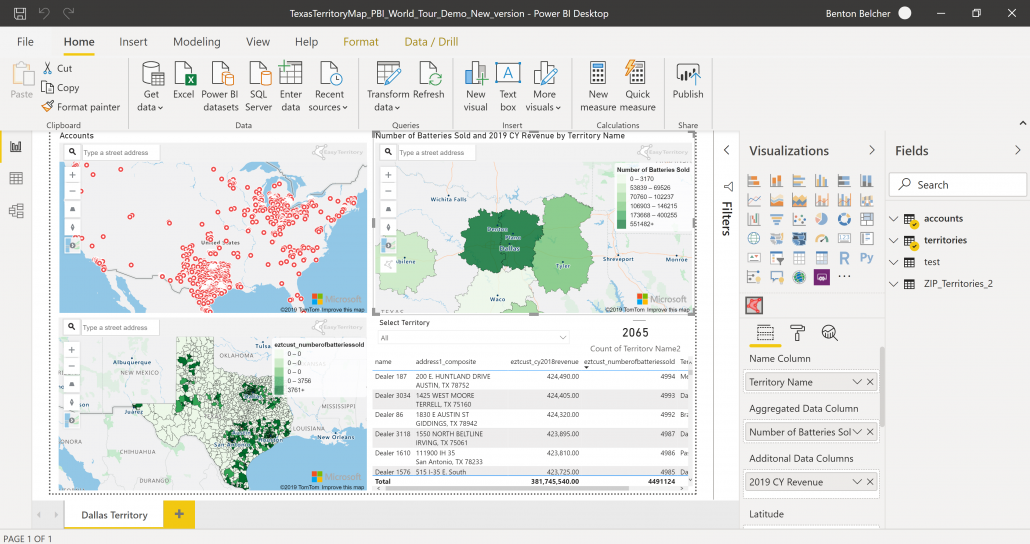 EasyTerritory is also a great Mircosoft Streets and Trips alternative!
With EasyTerritory, sales reps and service planners can create sales routes or services routes with optimized stop orders, directions and mileage calculations. Additionally, EasyTerritory supports real-time traffic conditions and weather radar overlays to give call center operations situational awareness. EasyTerritory is a user friendly, cloud based route planning solution for Microsoft Windows. This makes EasyTerritory a great Microsoft Streets and Trips alternative.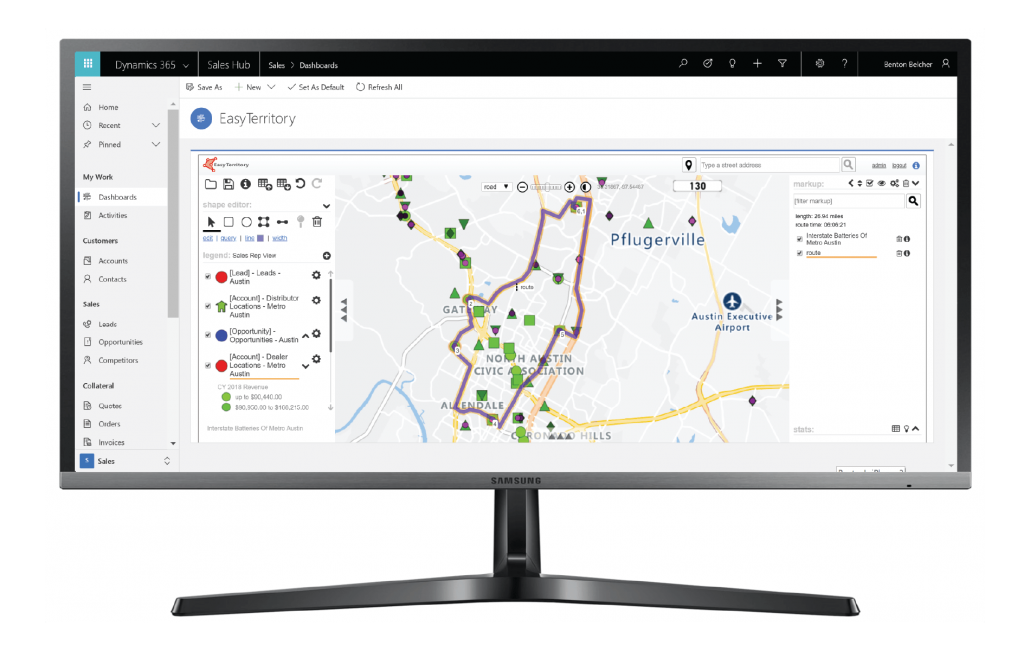 Microsoft MapPoint Comparison Matrix
This matrix compares EasyTerritory Enterprise and Standard editions with MapPoint 2009, MapPoint 2010, MapPoint 2011, MapPoint 2013, and Microsoft Streets and Trips.
Edition
Standard
Enterprise
MapPoint
Supported Data Sources
 
Excel and .CSV (with on-the-fly geocoding and territory building)
Microsoft Azure Maps
Microsoft Bing Maps
Dynamics 365 for Sales (Leads, Accounts, Opportunites, Custom Entities)
 
Dynamics 365 for Field Service (Accounts, Assets, Work Orders, Custom Entities)
 
Dynamics 365 for Marketing (Leads, Accounts, Opportunites, Custom Entities)
 
Custom Tables from SQL Azure feed by EasyTerritory Ingestion Data Service
 
Salesforce (read-only)
 
SugarCRM (read-only)
 
Business Intelligence
 
Add data to the map
 
Global street and aerial coverage with Microsoft Bing Maps or Microsoft Azure Maps
Spreadsheet of customer data with addresses (Excel/CSV)
Additional datasets provided by EasyTerritory (e.g. Postal Codes, Political Boundaries, Demographic Indicators)
High-resolution aerials and Bird's Eye View from Microsoft Bing Maps
Traffic from Microsoft Bing Maps
US Weather radar from NOAA
Classify and Filter Data
 
Customize the symbology (shape and color) classifications of features on the map
Create classifications by range or exact value based on data fields
Filter data based on multiple criteria
Manage Map Features
 
Create hotspot density maps from point data
Point clustering
Create heatmap (aka. thematic or choropleth) maps
Identify callout box with feature details
Select map features by geographic region
Create travel-time rings by amount of time and method of transportation
Zoom to the map by street address or free-form text search on map features
Collaborate, Import and Export
 
Save and share maps with others with URL
Join tabular data with existing map layers
Export query selection (data-grid) results to Excel
Export territories as GeoJSON
Territory Management
 
Build, Realign, and Delete Territories on the Map
 
Bulk create territories from lists of geographies (Countries, States, Counties, ZIPs (Postal Codes), etc.)
Automatically build territories from scratch using geographies (States, Counties, ZIPs (Postal Codes), etc.) with balancing on data metrics (e.g. Revenue, Customer Count, or Workload)
Automatically realign territories with balancing on a data metrics (e.g. Revenue, Customer Count, or Workload).
Manually select geographies on the map using zip code, county, state, and other political boundary layers to build territories
Realign by moving counties or ZIP (postal) codes between territories
Support for overlapping (nested) territories (e.g. district>region>territory)
Edit territories by hand with snapping support
Edit by stitching, cropping and welding other territories
Export territory alignments to Excel/CSV (e.g. Postal Code, Rep Name)
Territory Statistics Features
 
Get instant statistics while editing territories (number of accounts, total sales, etc.)
Get statistics across all territories and color-code them by standard deviation from mean
Additional Territory Management Features for Dynamics 365
 
Automatically update all CRM entities (accounts, leads, etc.) that are within the territories
Write territory records back to the territory entity or custom entity in CRM
Lead assignment support
Create Marketing List
Sales and Service Call Productivity
 
Partitioning
 
Partition (divide) locations by stop delay and drive time
Schedule visits by week
Create optimized service/sales territories by proximity, distribution and custom variables
Routing
 
Fine-route for drivers and get turn-by-turn directions
Print routes
Save routes
Send routes to mobile view
Mobile Sales Productivity (Mobile-only license includes just these features)
 
Share multiple datasets to mobile devices
Secure your data with EasyTerritory authentication
Identify and filter data on your mobile map
Leverage device's GPS to do on-the-fly routing
Administration
 
Add and manage EasyTerritory users
Manage user projects
Create and manage groups (groups support project and data access to specfic users)
Create and manage spatial catalog data layers
Advanced application level settings
Monitor system logs
Technical Details
 
Hosting in the world-class Microsoft Azure cloud (cloud option)
Supports Azure AD and ADFS 2016 (OpenId Connect)
EasyTerritory MapPoint Replacement Free Trial
Although EasyTerritory is not a free MapPoint replacement, you can sign up for a free trial here. Let us show you how your organization can benefit from our highly recommended sales territory software, a leading MapPoint alternative.
You can visit our pricing calculator to build your custom solution of EasyTerritory today!
Request your free trial of EasyTerritory today