EasyTerritory is the leading MapPoint Alternative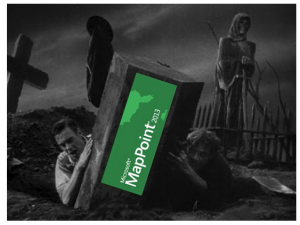 EasyTerritory is the leading map-based solution for territory management and geospatial business intelligence for Microsoft Dynamics 365 or SQL Server and is a great MapPoint alternative. Powered by Bing Maps for Enterprise, EasyTerritory allows users to geographically build and manage territories and get business-intel for leads, opportunities, contacts, accounts or any custom Dynamics 365 entity. EasyTerritory can optionally be deployed without Dynamics 365 using only SQL Server 2008, 2012, 2014, or SQL Azure. Features of EasyTerritory include, territory management, geospatial BI, route planning, and full legacy GIS integration. Out-of-the-box, this solution includes worldwide political boundary and demographic data for the US, Canada and parts of Europe. The EasyTerritory solution is available in the cloud or can be deployed on-premises.
---
EasyTerritory vs. MapPoint Feature Comparison
Create territories
Territory creation is what EasyTerritory was built for! EasyTerritory supports building territories for existing geographic features such as zip codes, counties, states, or countries. Additionally, users can draw (digitize) ad hoc territory boundaries on the map. The advanced territory editing capabilities include support for snapping, stitching, welding and clipping. EasyTerritory's territory management capabilities seamlessly integrate with Dynamics 365 through plugins and the Dynamics 365 SDK.
Business analysis and Geospatial BI
EasyTerritory includes rich thematic mapping for business data created in Dynamics 365 or stored in SQL Server (2008, 2012, 2014, Azure). Popular visualization techniques like hotspots, clusters and thematic maps are out-of-the-box functionality of EasyTerritory.
Find Addresses/Geocoding
EasyTerritory supports address lookup and geocoding through integration with the Bing Maps REST Services. Within the EasyTerritory application users can perform an address lookup and zoom to the location on the map.
Create routes
EasyTerritory supports route stop creation through integration with address records store in Dynamics 365 or SQL Server.
Multi-stop routing
EasyTerritory currently supports route stop optimization based on tour or circuits paths. Optimized waypoints can optionally be submitted to the Bing Maps routing service to draw the actual driving route on the map.
Fleet management
Combined with Dynamics 365, EasyTerritory provides a complete, robust and easily extensible fleet, asset or customer relationship management solution.
Data mapping
With Microsoft SQL Server's spatial capabilities, users can store and map any type of spatial information (points, lines and polygons). EasyTerritory includes a workbench utility for importing common geospatial formats such as Esri Shapefiles, MapInfo TAB files, Google KML, Esri ArcSDE and Oracle Spatial directly into SQL Server. This data can be classified and stylized on the map.
Offline/unconnected maps
EasyTerritory differs from MapPoint in the fact that it is not desktop software. EasyTerritory is a web application that can be hosted on your organization's Windows Server or by EasyTerritory.com in the Microsoft Azure Cloud. Data provided is available as an online service or as a SQL backup file. EasyTerritory is written in HTML5 so it works great on tablets such as a Microsoft Surface or an iPad.
GPS guidance (turn-by-turn)
Yes! EasyTerritory allows you to create mobile views of your data so that users can quickly launch their phone's native mapping application. Let Siri tell you how to get there!
Ready to get started?  Click here to register for a free trial!