The April 2016 release of EasyTerritory (v2.26.1) is now available! See below for more information about the significant enhancements in this release. If you're ready to upgrade, please contact your EasyTerritory account manager today.
RELEASE NOTES
New Mobile View allows users to share data with others on their mobile devices
New Territory Realignment feature makes it easy to move territory components (zips, counties, etc.) between territories
New "all statistics" dialog can display statistics across all markup in your project!
Support for ADFS to manage your user accounts
Added support to re-geocode (reposition) by mouse-click
New print support allows printing of markup with notes
Improved shape-create intelligence and auto-determining of buffer size
New Bing Bird's-eye view to callout and address markers
Added support to create a partition cluster directly from a column in your data
Fixed turn-by-turn directions time computations for routes greater than 24 hours
Added tooltips to all flags in the admin flag editor
Improved markup-builder performance by 300%
Added another level of simplification in markup-builde
Improved password strength is now an administrator-level configuration option
Six new symbols have been added to the symbol library
NEW MOBILE VIEW ALLOWS USERS TO SHARE DATA WITH OTHERS ON THEIR MOBILE DEVICES
Users can publish select data from their projects and share this data with users on mobile devices. This can be used to share a route with associated stops with a driver. Or you can share a set of accounts that need visiting. You can share only the data elements you want and hide sensitive data from the mobile view. First choose a layer you want to share and then from the settings panel open the "configure columns" dialog. Make sure there is a "routename" flag on the primary field you want to identify your data by (such as 'full address', 'customer name' or 'customer id'). Then add the "mobileview" flag to every column to want to share. If a column does not have this flag, it will not be shared in the mobile view.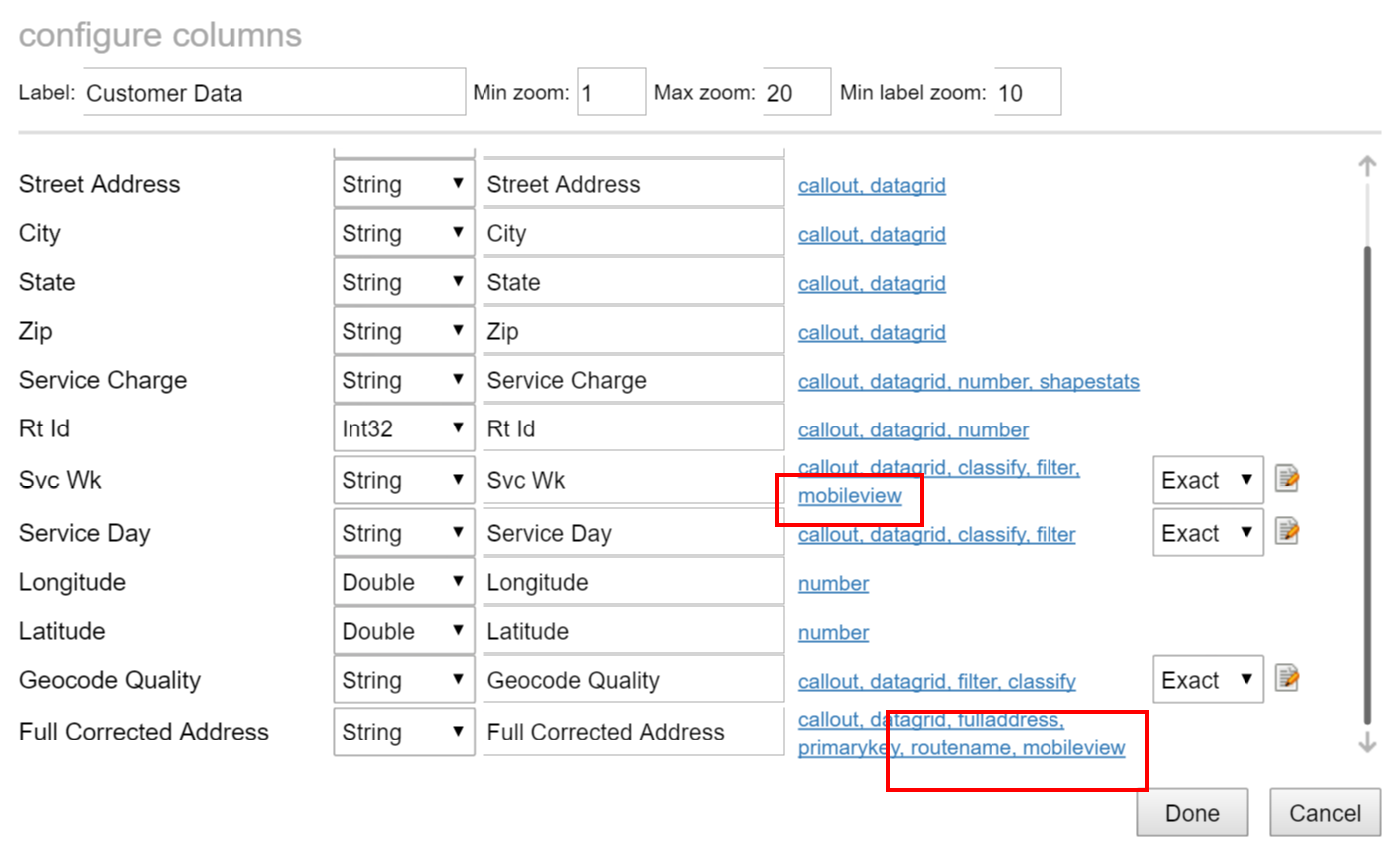 Then query the data you want to share so that all of the records are in the data-grid. You should see a "view mobile" link if you have one or more columns flagged with "mobileview."

Clicking this link will return a dialog with a hyperlink you can use to share your mobile view. Simply email this link to anyone with a mobile device you wish to share with. When they open it they will see something like this: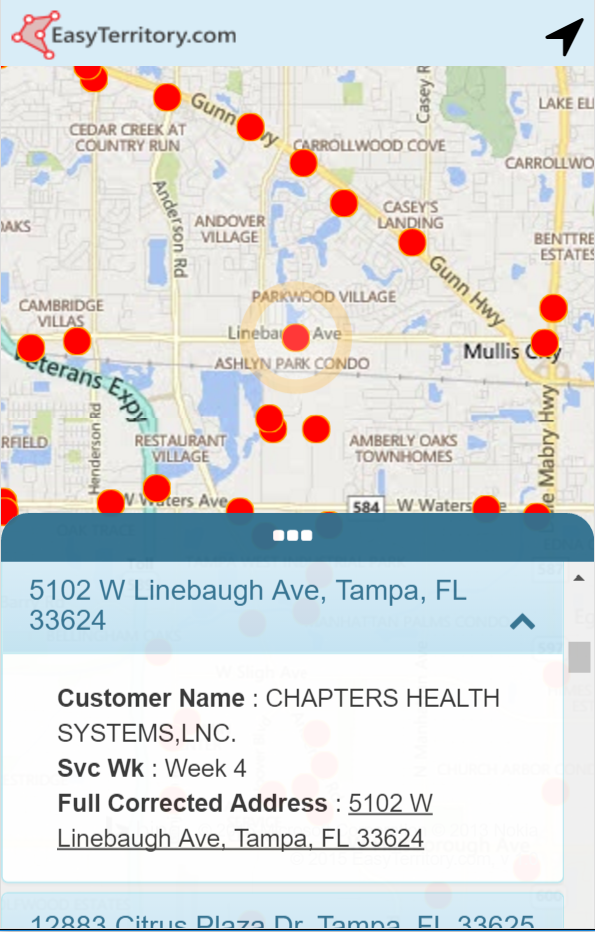 Touching a feature on the map will open the list to the item, displaying the fields that were flagged as "mobileview." You can also scroll through the list and select an item. It will highlight the corresponding record on the map. If you flagged a field as "mobileview" and "fulladdress" then this will appear in the list as a hyperlink. Clicking this link will open the address in a new map and allow you to get directions. Clicking the icon in the upper right will center the map over your current GPS location. Your current location is displayed with a small blip as well.
NEW TERRITORY REALIGNMENT FEATURE MAKES IT EASY TO MOVE TERRITORY COMPONENTS (ZIPS, COUNTIES, ETC.) BETWEEN TERRITORIES
This feature addresses the realignment problem with a set of functions for easily removing sub-regions (such as zip codes or county boundaries) from one or more territories and adding them to another. To use this feature, add the territory components you want to change to the datagrid. You can quickly select zip code or county polygons by holding the ctrl-key down and clicking on them in the map.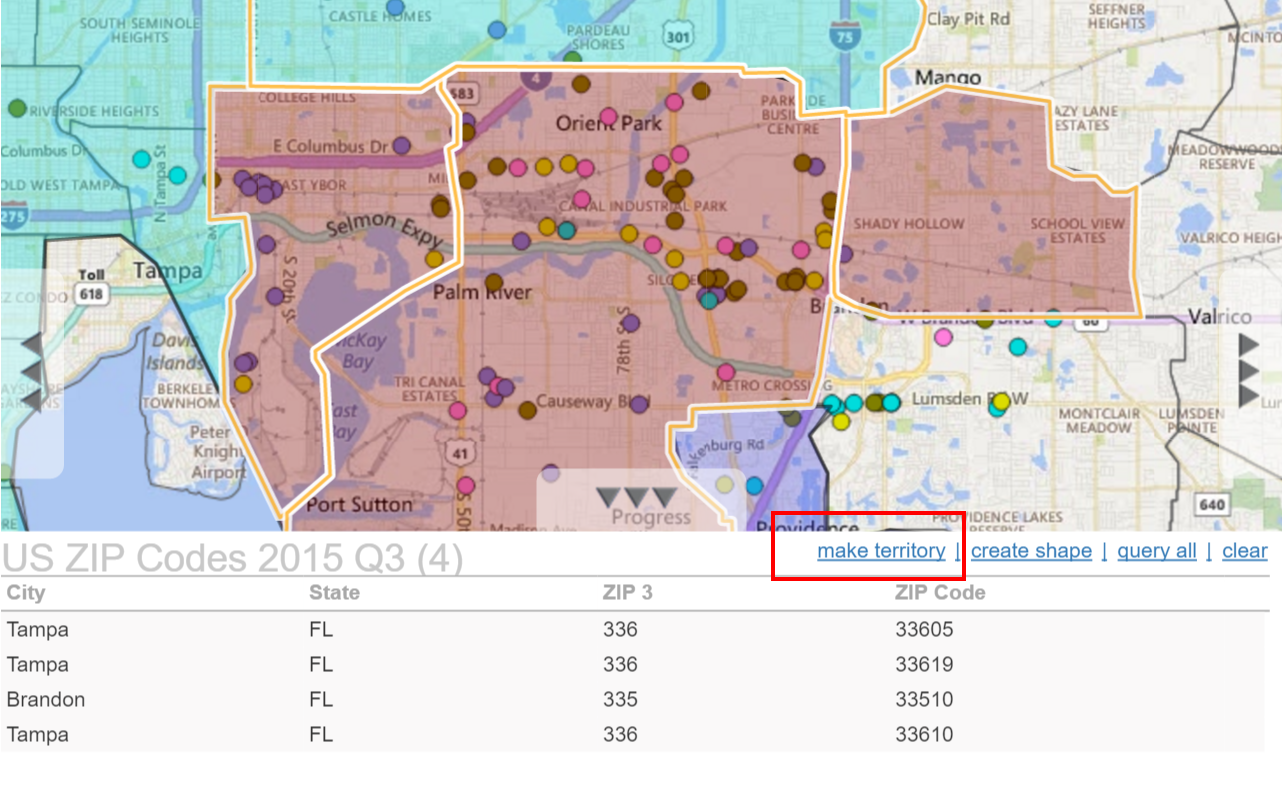 Once you have added one or more records to the datagrid, you will see a "make territory" link. Click this to open the "make territory" dialog. Once you select you're your options and press 'OK' you will be taken into the standard Markup Builder dialog to perform the realignment.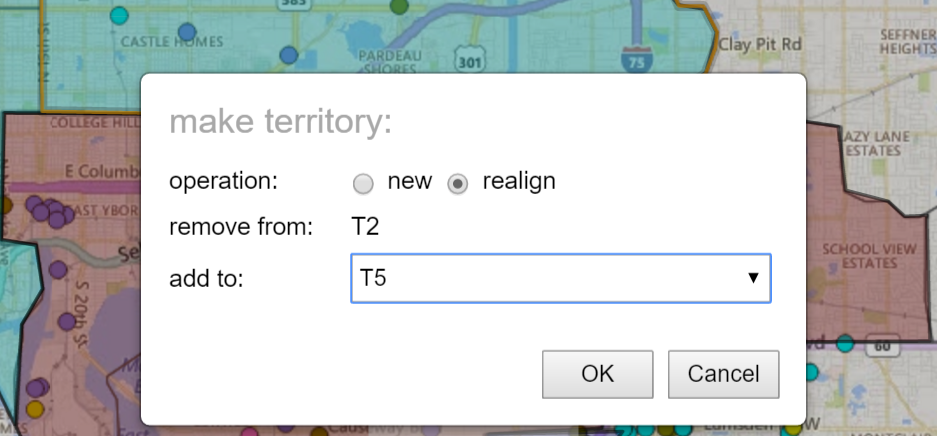 FOR A VIDEO WALKTHROUGH OF THE NEW TERRITORY ALIGNMENT FEATURE, CHECK OUT THE BELOW VIDEO…
ADDED SUPPORT TO RE-GEOCODE (REPOSITION) BY MOUSE-CLICK
For uploaded geocoded datasets, there is a tool for repositioning the location by entering a new street address. In the April Release we have extended this feature to allow the user to manually relocate a record by clicking on the new location on the map.
PRINT MARKUP WITH NOTES SUPPORT
There is a new print button in the markup properties dialog allowing you to print the notes field along with the markup shape on a street map.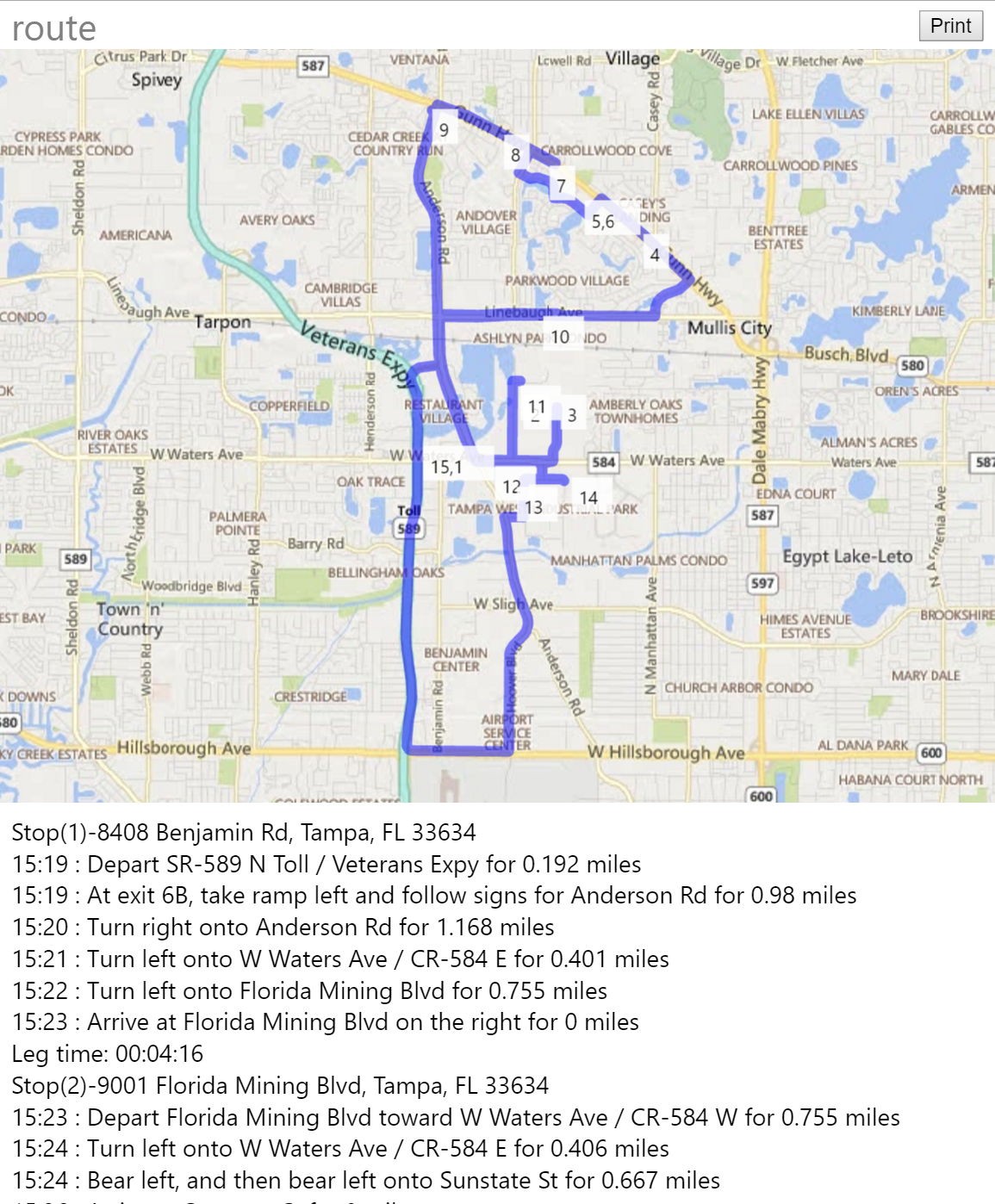 IMPROVED SHAPE-CREATE INTELLIGENCE AND AUTO-DETERMINE BUFFER SIZE
The create shape dialog makes use of a new "default buffer" property on polygon layers. Users no longer have to estimate the appropriate buffer size when doing welds and clips.
ADDED BING BIRD'S-EYE VIEW TO CALLOUT
There is a new link icon in the callout which will open a new browser window with a Bing "bird's eye" view of the location the callout is open at.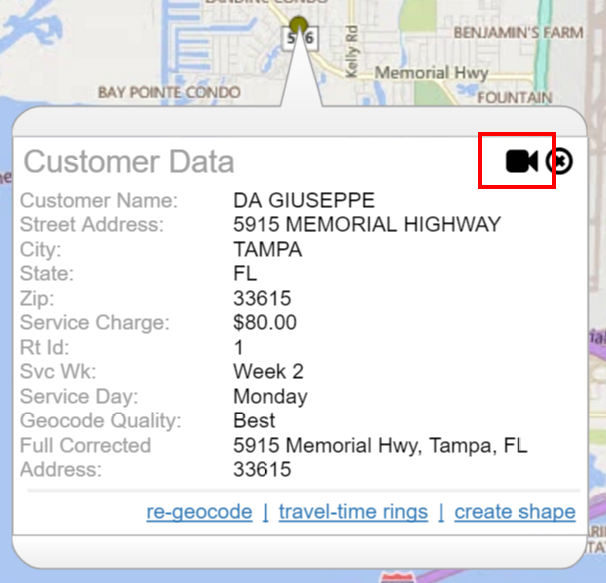 CAN NOW CREATE A PARTITION CLUSTER DIRECTLY FROM A COLUMN IN YOUR DATA
When you launch the "make partition" dialog you will be presented an option to create the partitions from any column in the data that has been marked with the "partitioned" flag. If one or more columns are flagged, an interim dialog is presented asking for which column to use, or "auto-generate" using route partition criteria.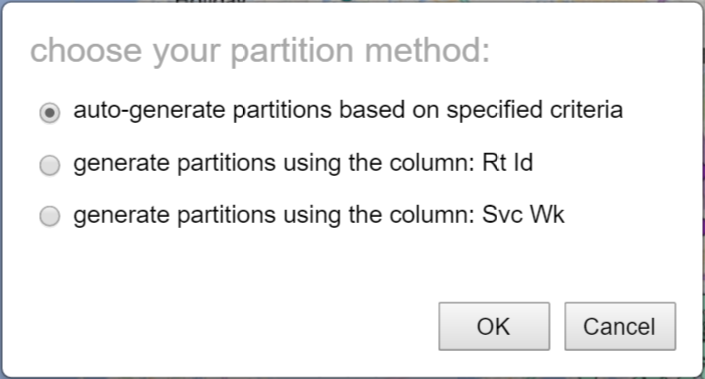 A NEW "ALL STATISTICS" DIALOG CAN DISPLAY STATISTICS ACROSS ALL MARKUP IN YOUR PROJECT!
If you have more than one markup in your project, you can click the "all statistics" link to get shape statistics displayed side-by-side with tabulated mean and standard deviation for each metric. For a walkthrough of this feature watch the demo video here:
/wp-content/uploads/2020/01/EasyTerritory-Sales-Mapping-Software-Logo@2x-300x87.png
0
0
Kent Young
/wp-content/uploads/2020/01/EasyTerritory-Sales-Mapping-Software-Logo@2x-300x87.png
Kent Young
2016-04-04 18:44:24
2020-04-14 16:49:50
EASYTERRITORY ANNOUNCES APRIL 2016 RELEASE